Gloria Jaroff, A.I.A.
Architects & Designers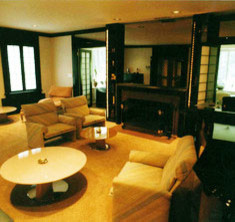 Lentakis
CLIENT: a concert pianist.
The
existing space
: dark, drab and traditional.
THEME: A small recital hall for select guests and a practice space highlighting nine foot Bosendorfer
grand piano
.
DESIRED MOOD: Understated elegance ,spaciousness, light, informality. Contemporary with
Asian influence
.
RESULT: Transformation of a drab, dark living room to a sparkling stage.
WALLS: Major wall areas brightened by painting existing grasscloth white to match
rice paper
of customf oak Shoji screens.