Moda Industria
Artists and Artisans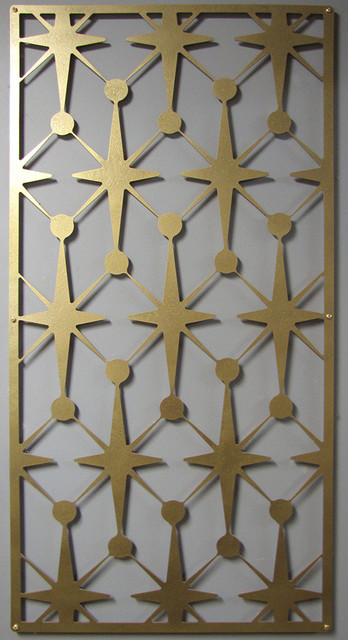 Wall art 5
Retro Wall Art
A waterjet cut aluminum
wall sculpture
. It has 1/2" stand-offs so that it appears to be floating in front of the wall. It creates wonderful cast shadows that will vary in depth and intensity depending on the lighting. It is approximately 23" X 46".
Material thickness is a little over a 3/32" thick.
Select a color. Colors in photos are warm gold and
antique silver
.
Make it a pair (fills a 46" X 46" space), a trio (fills a 69" X 46" space) or a quad (fills a 92" X 46" space) of wall art.
All mounting hardware and wall stand-offs are included.
This ships in 4-5 days from order.
© 2013 Moda Industria |
Bloomington
, IN