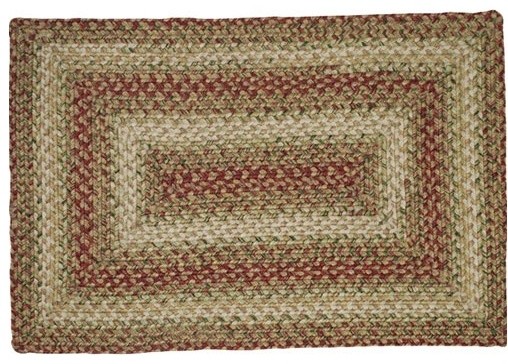 What Houzzers are commenting on:
Ultra-Durable Tuscany Rug
Olive trees, bursting with green fruit. Stone washed walls with red tile roofs. This rug brings home all the colors of the Tuscan countryside. Ultra Durable Braided Rugs are great for indoor and also outdoor use. These braided rugs absorb water, spills and don't stain which makes them great for bathrooms (no wet socks), kitchens, entry ways and mud rooms (they absorb melting snow). These rugs are also great with pets (absorb accidents and can be washed clean). Besides these great indoor uses these braided rugs can also be used outdoors where they don't mold or mildew. The Owner uses these rugs in his own bathrooms, entryway and kitchen and personally says "You will love them". Features: -Material: Dupont olefin. -Collection: Out-Durable. -Boasts extreme versatility as well as ensured durability. -Suitable for kitchen, porch, patio, pet area, childrens room and bathroom use. Specifications: -Overall Dimensions: 36-120" Height x 24-96" Width Recommended Care: All rugs require care to maintain their beauty and longevity. Vacuum regularly with the hard attachment of your vacuum. Refrain from using a beater brush - ESPECIALLY on the Out-Durable rugs. Stains and spills can be cleaned with water and hand soap. For long lasting beauty, just hose your Out-Durable braided rug down and lay it flat to dry. For a fresh new look, just flip over and enjoy! All rugs lay flat when they leave the factory. When the rug is new, let it flatten before use. Work out wrinkles using your hands or a pole (the carpet tube works well too). Once the rug is flat, we recommend a rug pad for longer wear. Occasionally sprouts will appear in your rug. These are a natural by-product of the traditional method that Homespice uses to make their braided rugs. Simply use a sharp pair of scissors and trim the sprout even with the rug. Braided rugs are stitched together using extra strong thread. Should the threads get damaged or cut, the braids may start to separate. We recommend sewing the braids together with a needle and thread. If left unattended, this separation will grow. Note: Please be aware that actual on your screen. Accent rugs may also not show the entire pattern that the corresponding area rugs have. Additionally, rugs 8' x 10' and larger may ship Truck Freight.