Princeton Architectural Press
Media and Bloggers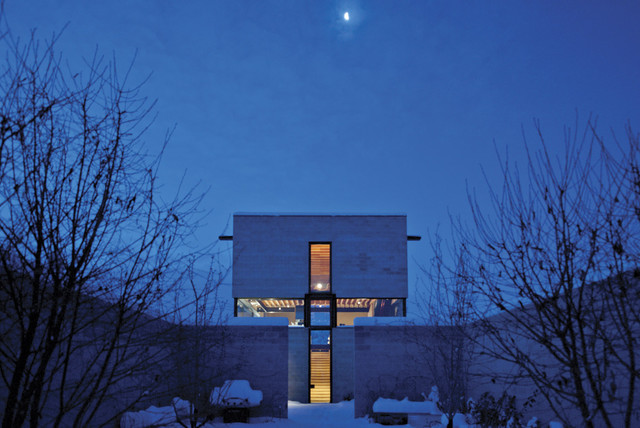 Tom Kundig: Houses 2
Outpost in Bellevue, Idaho by Olson Kundig Architects.

Photograph by Stuart Isett.
What Houzz contributors are saying:

Built primarily of cinder blocks (CMUs), the main living area is lifted to roughly the height of the courtyard walls and is accessed via the stair seen in the center of this photo, which is also the center of the plan. This design lifts this space above the winter snowpack and is a clear indication of how Kundig creatively responds to climate (remember the funneled breezes of the Montecito residence).

In this photo the two-story house-studio appears to float above a long, enclosed concrete-walled garden. The assembly of house and garden is described as a protective cocoon with a hard exterior to withstand extreme weather conditions and a soft interior.Learn more about Olson Kundig's founder, Jim Olson, and his inspirations

Myth: Flat Roofs Are ExpensiveRelative costs can be hard to quantify, but I would argue that flat roofs are materially more efficient than sloped roofs. This is for two reasons. First, you're using fewer resources to construct the actual roof assembly. It takes quite a bit of material to construct a pitched roof: shingles or metal, rafters, ridge poles, insulation, bracing, collar ties etc.And second, flat roofs ensure that you're heating and making use of all of the space you construct. Oftentimes space that's above the ceiling plane in sloping roofs is underutilized or must be heated because there's mechanical equipment housed there.This home by architect Tom Kundig is an elemental composition in the harsh, high-desert region of Idaho. The geometries are composed of concrete block that simply defines the volume of the home. It's hard to imagine that these proportions could be achieved with a pitched roof.
What Houzzers are commenting on: