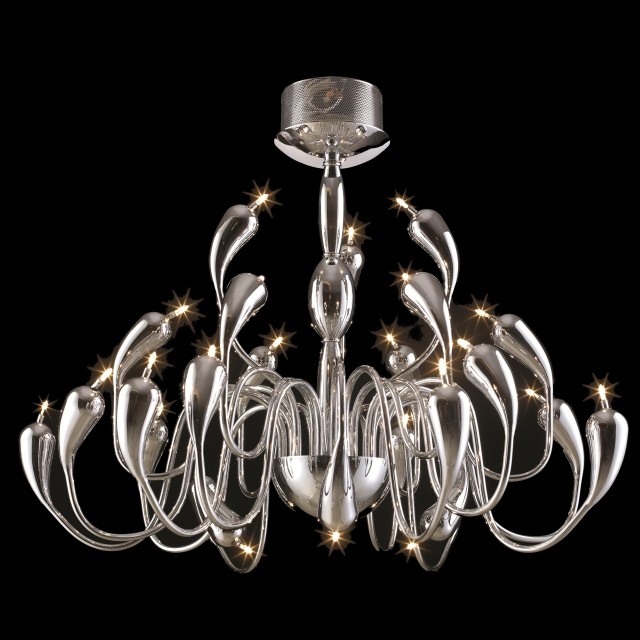 What Houzzers are commenting on:
Anatra Modern Chandelier 18 Lights Chrome Finish
Anatra Collection
The Anatra Collection is a gorgeous, modern collection of lamps and
chandeliers
. These lighting fixtures are stunningly aesthetic and breathtaking to look at. The Anatra Collection is a superb choice for modern lighting and style to your home. The Anatra Collection is absolutely stunning, and adds perfection to any ordinary room. Unlike some of the other collections offered by Brizzo, the Anatra Collection offers many modern finish options as well. You can choose from the beautiful polished chrome, red, white, or black. The Anatra Collection is a top selling lighting collection due to its exceptional uniqueness and style. The exquisite Anatra Collection offers the finest options for lighting and modern style that are available on the market today.
The chandeliers offered by the modern Anatra Collection are a striking addition to any room. You can choose from the beautiful modern chandelier with eighteen or twenty-four lights. Both are exceptionally beautiful and give your room a whole new look and perfect lighting. The designer Anatra Collection is stunning in any room; however, these chandeliers look exceptional in your living or dining room. Invite your friends over for dinner so they can enjoy the luxury of your beautiful Anatra chandelier that is hanging over your dining room table. Friends and family will be in awe at the sight of this unique and stylish piece of art. The Anatra Collection offers friends and family the perfect amount
of lighting
while having dinner in your home. These modern chandeliers accommodate rooms of up to 200 square foot. These gorgeous pieces of modern art are one of the most luxurious chandeliers on the market today. The smaller of the two Anatra chandeliers measures 32" W to 20" H. The larger chandelier with twenty four lights is 36"W x 40"H. Both are a beautiful addition to any room in your home or modern business.
Another exceptional piece offered by the Anatra Collection is the beautiful Anatra
modern floor lamp
. This stylish lamp is suitable for any room; however, it is exceptionally appealing in living rooms, dining rooms, and bedrooms. Add comfortable style and lighting to your cozy bedroom with a beautiful Anatra lamp. This lamp has six halogen bulbs to make the stunning lamp gleam. Also, you can purchase this lamp in a polished chrome finish, or choose from other extraordinary finishes such as red, black, and white. There are many modern finishes to suit your home or office needs. This stylish lamp measures 12"W x 66"H; perfect size for any room.
The Anatra modern table lamp is another charming piece of lighting from this collection. This
modern lamp
is perfectly designed to add a touch of elegance to any room you choose. Although this lamp works well anywhere you place it, it is often used in living rooms, family rooms, dining rooms, and bedrooms. Give your room a dazzling touch of modern lighting with the purchase of this unique table lamp. Anyone who views your new Anatra lamp will be astounded by its beauty. This table lamp measures 12"W x 35"H, which is the perfect size for any table in your home or office.
Brizzo only produces the finest quality lighting products for your home or office. These gleaming products will sure to be a nice conversation piece when placed in your home or office. With an Anatra product, you can liven up any room, as well as give it a modern, luxurious, and
striking
appeal. Consider purchasing a lighting product from the Anatra Collection today to beautify your modern home or office.
Product Specifications
Sold By

Category

Style