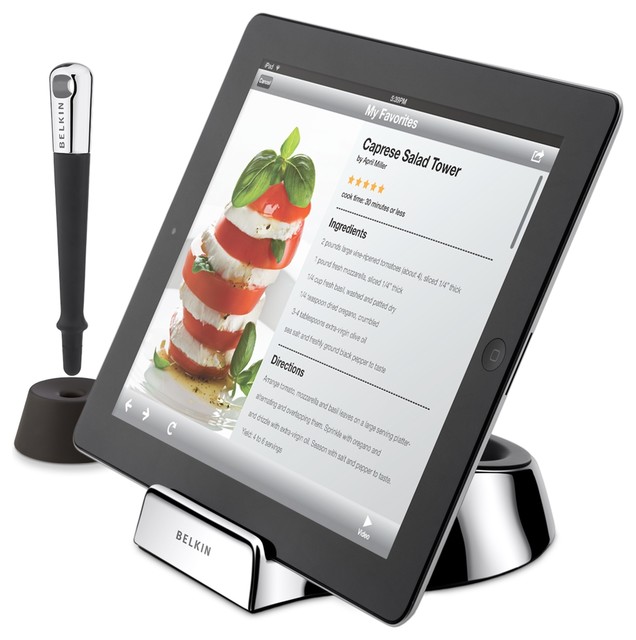 What Houzz contributors are saying:

If you cook from recipes on your iPad, you could probably relate to the inconvenience of trying to keep grease, flour, or spaghetti sauce off the screen while checking off ingredients and following the steps. The designers at Belkin have come out with the Chef Stand iPad dock to help with this very issue. The anti-slip, hand-washable storage stand comes with a stylus that allows you to scroll up and down and search for alternative recipes without worry of leaving smudges or food fingerprints. The magnetic tip works with any touchscreen, and for just $40, it's an affordable addition to your kitchen.If cooking with your iPad on your countertop isn't your thing, a Fridge Mount and
Kitchen Cabinet
Mount will let you use your iPad on refrigerator or cabinet door.

iPads are proving popular in kitchens as well, and there are many new devices that make it easier and safer to use here. This chef stand and stylus are designed for kitchen use, the rubber bottom of the stand keeps it from slipping. The stylus means no sticky fingers on the screen. There are safety concerns with bringing portable electronics into the kitchen. Take care not to use them near water, of course, and try to keep ingredients at a safe distance. Electronics today aren't as delicate as they once were, but neither are they waterproof. If you do get water on or submerge a portable device in liquid, remove the battery (unless the device has an internal battery) and place the device on a bed of dry uncooked rice. That will absorb the liquid. Don't try turning the device on and let it sit overnight before rebooting. It doesn't always work, but it doesn't hurt to try before buying new device.
What Houzzers are commenting on:
Made especially for use in the kitchen, the Chef Stand + Stylus gives you the freedom to interact with your tablet while you cook—without worrying about touching your device with messy hands. The case-compatible stand has a non-slip rubber base and two different angles that are ideal for countertop use.
The wand allows you to follow recipes and browse the
Internet
without ever laying a finger on your screen. It comes with its own storage stand and is easy to grab while you're busy handling food and other kitchen equipment. The magnetic tip works with any touchscreen, and can be used to wake up an iPad 2.
All components can be washed by hand using warm, soapy water.
1-Year Limited Warranty —
Janet Paik
Product Specifications
Sold By

Category