Shuler Architecture
Architects & Designers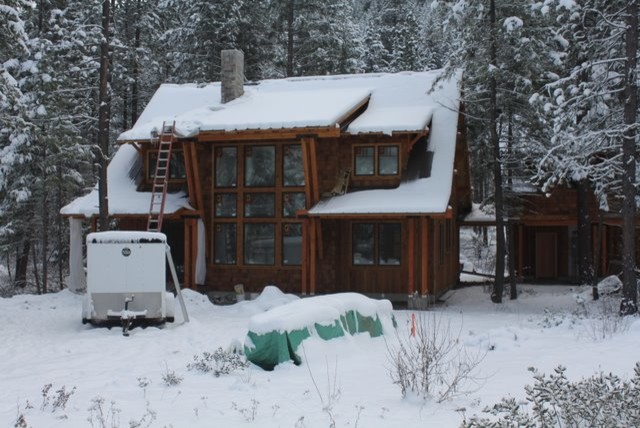 Winter Cabin 2
Located in eastern Washington's Methow Valley, this project was built for an executive and a professor who are winter sports enthusiasts. They were attracted to this region because of the miles of groomed Nordic trails, unlimited back country skiing opportunities and world class athletes who routinely train for the winter
Olympics
along these trails.
This 2 BR, 2 bath cabin is a relatively modest 2000sf structure that can easily accommodate 8-10 avid skiers and back country hikers. An oversized 1 ½ car garage is designed to warehouse snow mobiles and ski equipment while also providing a clear path to the entry of the main cabin. Because of the intense snowfall this region experiences, the roof is designed with deep overhangs and without valleys. In the heart of winter, snow sheds off the roof and reaches a depth above the main level eaves. Temperatures in this region are routinely some of the lowest recorded in the state and often plunge to sub-zero Fahrenheit. In response, we employed a robust insulation package, high performance windows, and a remotely controlled
heating system
that can be adjusted from a smart phone.
We also utilized a fireplace known as a Russian
heater
whose design dates back hundreds of years and is one of the most efficient ways to burn any solid fuel. The principle behind masonry heaters is a flue system that creates back pressure and forces heated air to pass slowly through the chimney. A short, hot fire with high temperatures and low emissions burns intensely, reaching temperatures of between 1600 and 1800 degrees F. and extracting maximum BTU's from the fuel source. Temperatures this high also eliminate creosote build-up inside the chimney and as well as the majority of particulate exhaust. When operated correctly, smoke emitted from this heater is virtually invisible and the overall efficiency of the fireplace can be as high as 78%. The most efficient installations are achieved when the heater is centrally located in the dwelling with a masonry chimney running up through the house. Energy absorbed by the mass of the fireplace is then radiated outward in all directions for 12 to 36 hours after the fire has gone out.
What Houzzers are commenting on: