Randy Brown
Architects & Designers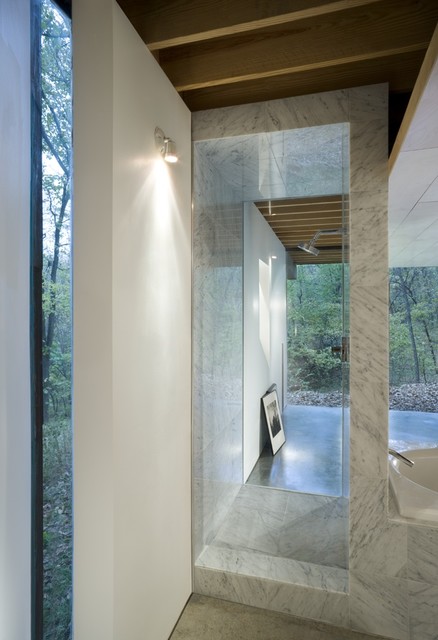 What Houzz contributors are saying:

One last look at the house — from the sink area through the shower that shares a wall with the bathtub ' shows the complexity that happens even in one of the most straightforward spaces in Brown's addition. Large expanses of glass alternate with small slot windows; materials overlap and erode to reveal structure; and views cross numerous boundaries. Ultimately, like any house the views are an important part of the house. They are a means of orienting the dynamic plan, be it in the double-height living space or the guest suite at the other side of the house.Yes, Brown's house is a laboratory that attracts its fair share of architectural admirers — he admits contemporary peers like Larry Scarpa, Marlon Blackwell, and Merrill Elam have trekked to see the house — but it is still an environment that works for him and his family. It provides shelter and a means of interacting with nature, but it is also playful and embraces delight and surprise, some elements missing from much
contemporary residential
architecture.More regional modern architecture:Boston | Chicago | NYC | NY Metro | Seattle | Oregon | No. Calif. | San Francisco | L.A.
What Houzzers are commenting on: