Adcock-Smith Design
Interior Designers & Decorators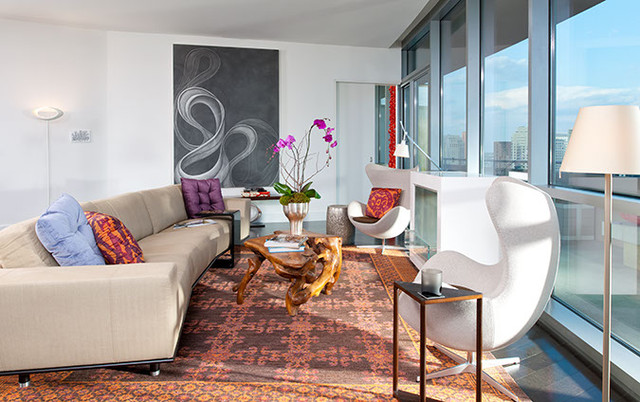 City Living High-Rise Condo
Sofa Shopping 101:
Purchasing a sofa, rather the "Right Sofa", is one of the most important decisions a homeowner will make. The "Right Sofa" will set the tone and quality of the room. It should be well constructed and have a good quality fabric that looks great but works hard to
stand up
to the rigors of Life. (Since most people hang onto a sofa purchase for decades, it is very important to get it right!)
I have long been a fan of really long sofas – at least 10' up to 14' is my ideal, but it is rare to find a sofa over 96" in the typical furniture showroom or store. While designing the furniture plan for the living space in this condo unit, Linda and I felt a really
long sofa
would be just the right glamorous touch for the long skinny room. But we quickly determined that the curve of the perimeter wall would prove problematic in our search for the right sofa.
And then we spotted it – the "Regal" three piece sofa by Giorgetti in the Scott + Cooner showroom. This Italian designed
sofa covers
a whopping twelve and half feet of floor space! Not only was it wonderfully long, it's gentle curve, (the concave shape to the convex of the perimeter window wall,) worked perfectly with our floor plan. The result is a maximized seating area which is both intimate and glamorous.
Photos: Dan Piassick
What Houzzers are commenting on: