Adrienne DeRosa
Media and Bloggers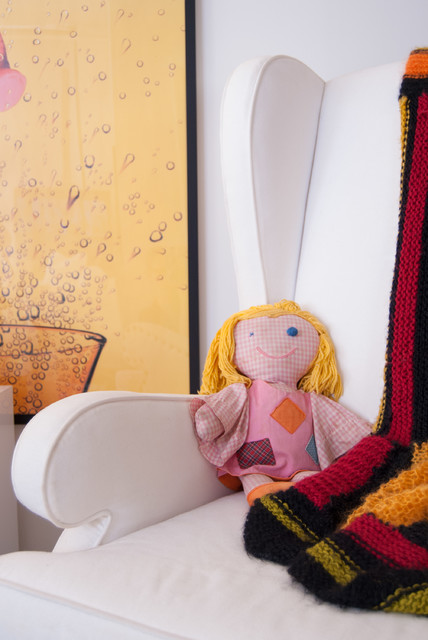 Stacy Weiss: Shadyside, Pennsylvania
A doll from Weiss's childhood offers a playful disposition to the otherwise formal wingback chair. "Her name is
Funny
," Weiss says. She is an exact replica of a doll that Weiss carried as a young child. "I slept with the original into teens—until she disintegrated. My parents found this one at a flea market about 15 years ago," she explains. Although Funny came with a relatively high pricetag, Weiss's mother convinced her father to buy it anyway. Weiss laughs, "She twisted his arm- I think literally!"
In addition to giving the
white chair
a punch of color, Funny imbues the space with a personal connection that goes beyond careful selection. Reinforcing the sentimental connection is the crocheted throw, a prized possession knitted for Weiss by her daughter.
Wingback Chair
: Mitchell Gold+Bob Williams
Adrienne DeRosa Photography © 2013 Houzz
What Houzz contributors are saying:

A
doll
gives an otherwise formal wingback chair a playful disposition. "Her name is Funny," Weiss says. She is an exact replica of a doll that Weiss carried as a young child. "I slept with the original into my teens until she disintegrated. My parents found this one at a flea market about 15 years ago," she says. Although Funny came with a relatively high price tag, Weiss' mother convinced her father to buy it anyway. Weiss says, laughing, "She twisted his arm — I think literally!"In addition to giving the white chair a punch of color, Funny imbues the space with a personal connection that goes beyond careful selection. Reinforcing the sentimental connection is a prized crocheted throw, knitted for Weiss by her daughter. Wingback chair: Mitchell Gold + Bob Williams
What Houzzers are commenting on: