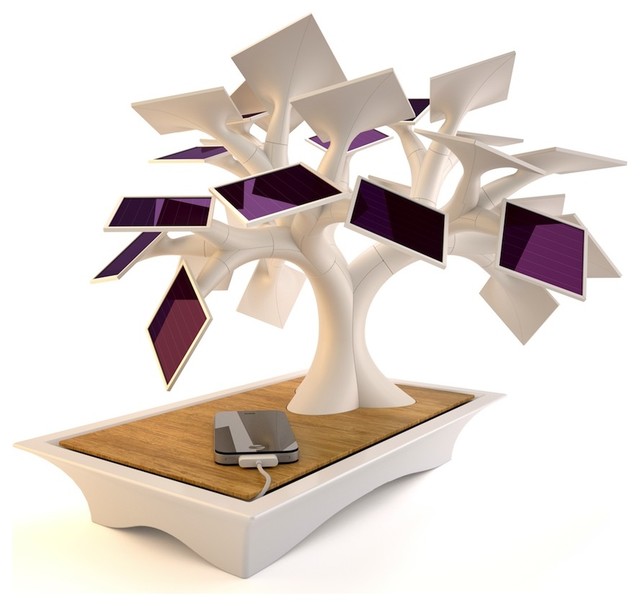 What Houzz contributors are saying:

The perfect low-maintenance
plant
: no watering needed, and it charges your devices. Designed and developed by French designer Vivien Muller, Electree is a solar powered bonsai-shaped tree with 27 "leaves" you can arrange to sun-soaked perfection. Each violet silicon-solar panel can be rotated to maximize sun exposure — and a USB connector, A/C outlet and unsightly wires tuck neatly away in the base. Muller is looking for 400 pre-sale orders to make the Electree a reality, so if you're interested in adding this double-duty performer to your windowsill, pre-order one for €299 (~$400) here.

This one is run by solar power. It's useful and energy efficient, and you can use it anywhere you have some sunshine.
What Houzzers are commenting on:
Electree, Designed by Vivien Muller
Energy produced by the panels during daylight is stored in a base hidden battery. Once charged, this accumulator feeds a USB port.
We're looking for a distributor to begin the production of 1 000 specimens minimum.
Electree is a modern sculpture imitating a bonsai, the leaves of which are small photovoltaic panels. It allows to recharge your
mobile
devices without using any other energy than light.
Usage is strictly limited to indoors.
Electree is delivered in modules which you assemble to create your own tree. This method makes it possible to produce an infinity of different shapes. You can model it according to your wishes and at the same time optimize the orientation of the photovoltaic cells and thus increase its effectiveness.
The structure is equipped with 27 cells, for a bulk height of roughly 40cm.
contact@electree.fr
—
Janet Paik
Product Specifications
Category