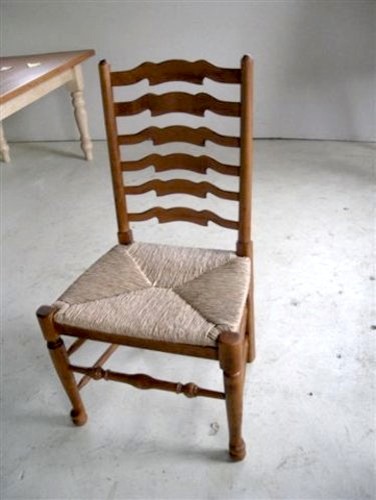 English Ladder-Back Chair
Made by
http://www.ecustomfinishes.com
Ph: (978) 831-3106
"European elegance and comfort combine to stunning effect in this quintessentially English ladder back chair. The handcrafted design promises to become an interesting and stylish addition to your dining room or kitchen diner thanks to its deceptively simple, ornate back and comfortable, ergonomic construction.

Proving that a seat can marry form and function with panache, this chair is at once graceful and offering of respite from the demands of the day. The slight curvature of the back and the rush/seagrass seat are designed to provide optimum comfort with the ladder back offering stability and peace of mind.

Constructed from solid beech wood, this chair provides an enduring quality that will see it play a central role in suppers, lunches and gatherings of friends and family for years to come. Please contact us to discuss availability."

Product Specifications
Sold By

Category

Style