Studio Swann | Custom Kitchens & Baths
Kitchen & Bath Designers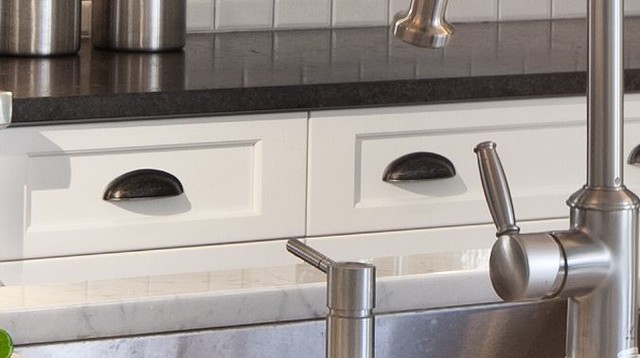 White Painted Kitchen featuring Inset Cabinety by Greenfield Cabinetry
Notice the pulls on the drawers. Considering the knobs and pulls on your cabinetry beyond the look of them. The function is also very important - especially if there is someone who has arthritis or is aging in place. Aging in place is designing a home, with special attention on the
bathrooms and kitchens
, to make it comfortable for us when we age. Larger pulls and knobs for aging hands, different colors on the backsplash and countertops make it easier for our eyes to determine depth of field as we age - just a couple of the things to consider in a kitchen you plan to love well over later years.
Now, let's look at the countertops. High gloss is popular in Contemporary / Modern designs. But, notice how it is used in this
Traditional design
. High gloss tends to need a bit more upkeep than a matte finish. Truly though, both are on trend - choose the one you prefer.