Doug Mockett & Company, Inc.
Furniture and Accessories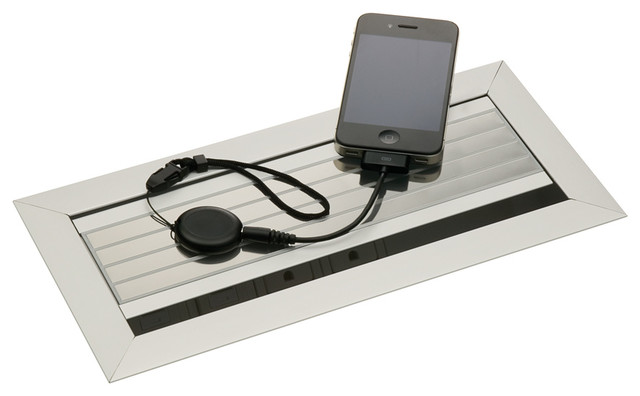 Recessed Power/Data Grommet with Wireless Charging
Wireless charging made easy! Power grid station built into the lid - simply rest your mobile device on top (adapters provided) and it will begin charging automatically. Universal adapters work with virtually every type of electronic device. The power grid strips are extremely thin, adding virtually nothing to the thickness of the lid. Hinged lid cover opens to reveal two electrical outlets rated 12A/125VAC and two Category 5e
data
modules which are seated on an angled face.
Drop your mobile device on the go for a few quick minutes of extra charge... Or have it handy on the desktop to access messages or data content while you work. With the charging station on the top-side of the
lid
, there won't be any interference or limited access with the other power and data components within the unit. Stay connected while charging by plugging in your accessories, closing the lid, and running the cabling through the gap on the front of the unit. Easy access. Universal charging options. Three devices can be charged at one time! What a relief!
Includes: PowerDisc, 9 interchangeable PowerLinks (Mini
USB
, Motorola Micro USB, Nokia 2MM, Sony Ericsson, Samsung, LG, Palm, Micro USB, Apple*)
* Cable for Apple iPhone 5 coming soon!
What Houzzers are commenting on: