Banyon Tree Design Studio
Landscape Architects & Landscape Designers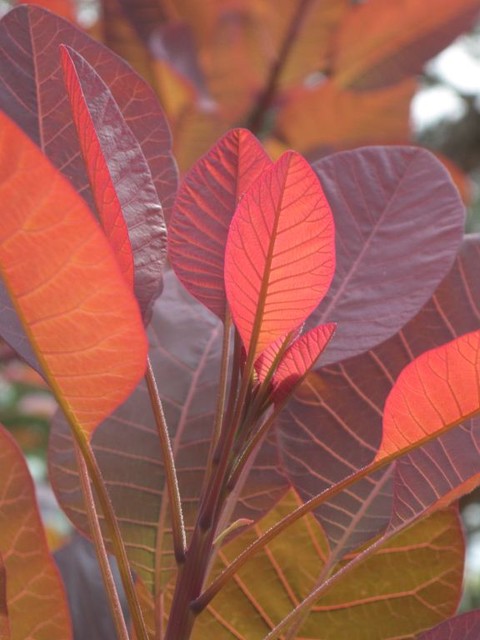 Banyon Tree Design Portfolio
What Houzz contributors are saying:

Distinguishing traits. 'Grace' is widely known for its showy pink clusters of flowers, arriving in early summer, followed by a brilliant display of red, burgundy and purple foliage lasting well into the end of the year. Light red leaves emerge come spring, signaling the restart of this beautiful cycle.A vigorous grower, the open mounding habit of plant can be manipulated to any desired form. Whether you allow the plant to extend up and out to its mature potential, or prune back and maintained as a low shrub, the foliage and smoke-like bloom will stop anyone in his tracks — whether or not they like purple.

Botanical name: Cotinus x 'Grace'Common name: 'Grace' smoke bushUSDA zones: 4 to 9Water requirement: AverageLight requirement: Full sunMature size: 10 to 15 tall and wide, but I like to cut it back hard in spring. This prevents flowering, produces larger leaves and keeps it around 8 feet tall and wide.When to plant: Plant it in well-drained soil in spring or fall.

1. Set the scene with bold foliage.Grace smoke bush is a garden showstopper from May to November with its translucent blue-purple leaves that seem to be on fire when lit by the sun.Allow it to grow unchecked to enjoy the smoky "flowers" or hard prune each spring to keep the bush smaller and enjoy even larger, more luscious leaves.Botanical name: Cotinus 'Grace' (syn. Cotinus x 'Grace')Common name: Grace smoke bush (syn. Grace smoke tree)USDA zones: 4 to 9 (find your zone) Water requirement: Average to lowLight requirement: Full sunMature size: 10 to 15 feet tall and wide; 6 feet tall and wide with annual pruningWhen to plant: Spring or fallCaution: Smoke bushes are considered invasive in some parts of the U.S., although this is not a problem where I live, in the Seattle area. Check with your local cooperative extension office for advice.
What Houzzers are commenting on: