Kipnis Architecture + Planning
Architects & Designers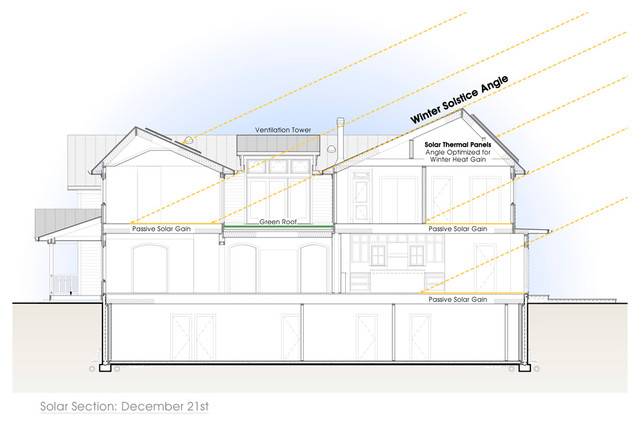 Winter Section
This is the winter building section which shows how the low winter sun interacts with the building's form. The solar thermal panels (which generate hot water for the domestic hot water system and tie into the HVAC system) are angled to be optimized in the winter when the hot water is needed most.

The overhangs are arranged on the south facing windows to allow a maximum of sunlight into the house for passive solar gain.

Photo Credit: Kipnis Architecture + Planning
What Houzz contributors are saying:

The only thing required to achieve a home powered by the sun is some smart design. For another project, architect Nate Kipnis identifies the roof angles that will be required during the winter ...

Orientation: Will my LEED home need to face a certain direction?Along the same lines, one thing you may notice about a LEED certified home is that it will be oriented to take advantage of passive solar heat gains in the winter and shaded from the heat of the summer sun. This is a fundamental concept in designing any building that claims to consume less energy. Tip: When looking at a house to possibly purchase, take a compass with you to see how well the house is oriented relative to the path of the sun. Several smartphone applications can help you track the sun's path at a given location.
What Houzzers are commenting on: