BuilderElements
Building Supplies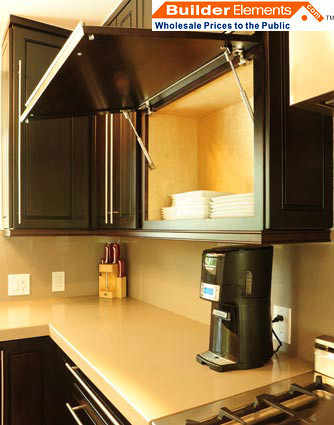 Espresso Maple Kitchen Cabinet real wood cabinets RTA kitchen cabinets
Espresso Maple Kitchen Cabinet. Contemporary, simplicity, elegant, Espresso stained maple wood kitchen

cabinets have all the merits to be your stylish dream kitchen: Full Overlay Door Style; Euro 6 way

Adjustable Plywood Shelves, Full Extension Solid Wood Dovetail Drawers.

Espresso Maple, one of our premium kitchen cabinets collections, features:
1. Kitchen Style: Espresso stained maple wood in a sleek contemporary style
2. Door: Maple Solid Wood, Full Overlay Door Style
3. Glides: Soft-Closing Concealed Undermount Glide
4. Hinges: Euro 6 way Adjustable Plywood Shelves
5. Drawers: Full Extension Solid Wood Dovetail Drawers
6. Shelves: 5/8" Thick Adjustable Plywood Shelves (NO particle board!)
7. Box: Cabinet Grade Plywood Box (NO particle board!)
8. Soft-Closing Door Upgrade Available

THE FINEST FURNITURE FINISHES:
1. The finest maple wood is sanded until smooth and vacuumed.
2. An equalizer stain is applied to balance the base color of the wood.
3. A toner is then applied to establish color uniformity.
4. A deep penetrating stain is then applied to reveal the hidden beauty of the natural grain.
5. All stained surfaces are the hand-rubbed and wiped of excess stain, and the slowly air-dried.
6. A wood sealer is then applied, penetrating all exposed wood surfaces for uniform protection.
7. All surfaces are then hand-sanded, providing a smooth, consistent surface.
8. A glaze is applied by hand ( if applicable ).
9. A color consistency examination is performed with additional touch-up if needed.
10. A final protective top coat is applied, maximizing resistance to scuffing, moisture, fading and most household chemicals.
What Houzzers are commenting on: