Periwinkle Skies, LLC
Artists and Artisans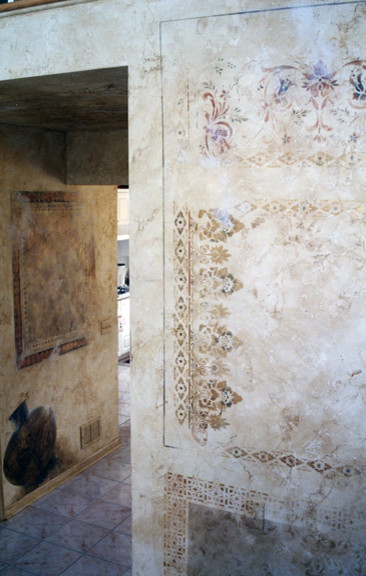 Frescoes
Frescoes
: by Periwinkle Skies
Fresco is the Italian word for fresh and is a type of mural painting. It is a long and involved technique consisting of three layers of differently textured lime plaster followed by a final finish. The top layer is composed of lime-tolerant pigments dissolved in lime water, and is painted onto the final plaster layer while the plaster is still wet. Success depends on good preparation, since every brush stroke is permanent. Lime plaster dries by a process of carbonation. The pigments get caught up in this process and become integrated with the surface of the plaster, making fresco an extremely durable way of adding color to a wall. Examples of this technique can be found around the world, including Europe, China, India, and Russia. Although examples still survive from the sixteenth century BC in Greece and Morocco, the technique saw its full flourishing in Renaissance Italy in the hands of the likes of Leonardo da Vinci, Michelangelo, and Raphael.
Periwinkle Skies has adorned wine cellars, restaurants, couture shops and residences with murals and frescoes in all over New Jersey, as well as in Connecticut and New York. View more of our work at www.periwinkleskies.com
We use environmentally-friendly, durable materials and offer a fee structure that is designed to best meet each client's plan of action. Contact us for a complimentary 45 minute initial meeting at 973-865-1966.
URL

Category

Hall

Style

Traditional

Location

New York
What Houzzers are commenting on:

Want something similar in dome