One SEED Architecture + Interiors
Architects & Designers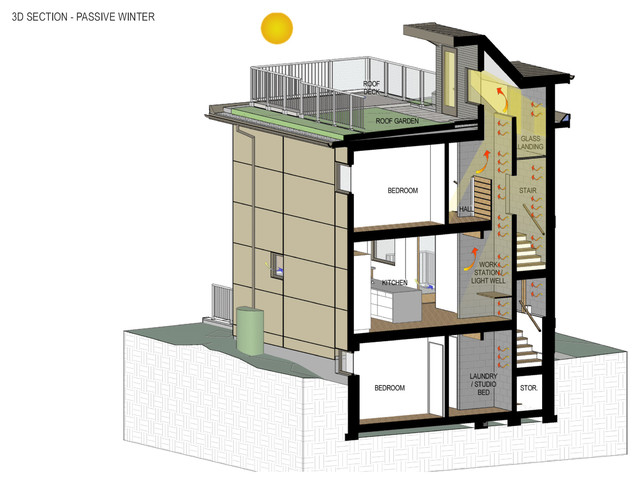 Narrow Passive House - 3D section
Passive Heating / Cooling:
Careful planning provides the occupants with as much lighting, heating, ventilation, and cooling that the earth can provide, for free. CMUs are used as an affordable source of thermal massing, in a charcoal colour for improved heat absorption. A central design feature, the 'U' shaped walls, as well as the north wall of the stair, are CMUs from foundation to ceiling.
- summer: roof overhangs block sun from entering south facing glazing beyond reflected diffuse daylighting,
CMU block
walls absorb ambient heat from the house during the day, cooling the house, and release it back at night, thus regulating the temperature.
- winter: south facing glazing allows full
sunlight
exposure to the thermal block walls, which collect heat and distribute warmth throughout the day and night.
Passive Ventilation (Stack Effect) and
Daylighting
:
The open tread staircase, which is open lengthwise to both floors of the house and the roof atrium, creates a stack effect and bounces daylight down to the main floor. A door at top of the sloped
ceiling vents
out warm air, while lower level windows and doors draw in cooler air. Windows located at different heights within a space allow occupants to vent out higher warm air in the summer, or lower cool air in the winter. Cross ventilation is also achieved with windows on all sides of the main living area and with the stair case stack in conjunction with bedroom windows on the upper level. A long glass landing in the stair, the full height opening inside the 'U' wall, and light painted surfaces ensure ample daylight reaches both levels of the house.
URL

Style

Contemporary

Location

Vancouver
What Houzz contributors are saying:

A diagram by One Seed Architecture + Interiors in Vancouver,
British Columbia
, shows how roof overhangs block southern sun but how south-facing glazing allows full sunlight exposure. In this house, the thermal block walls — exposed to the sun during the winter — also absorb that winter sunlight and distribute the heat throughout the day, helping to warm the house.
What Houzzers are commenting on: