One SEED Architecture + Interiors
Architects & Designers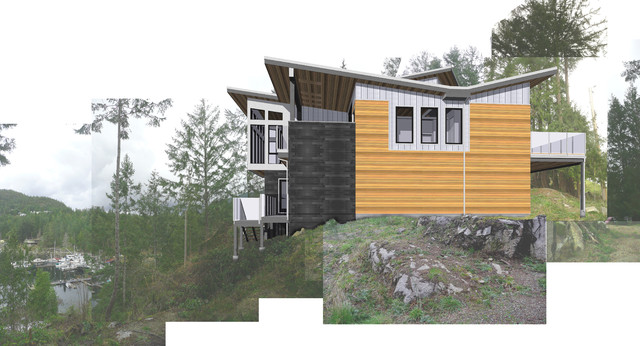 Cliff House - From Side
Architecture and site merge at wood and stone tile clad walls which rise and transition with a strong stepping silhouette, emulating the boxy granite masses and organic ground cover on the site. From this solid mass rises a lighter wall clad in vertical standing seam siding with a reflective and metallic finish. This airy
massing
is punctuated by glazing, vertical shadow lines, and tall posts. It evokes the space between earth and clouds, occupied by tall West Coast coniferous trees and the views captured between them. The final layer is the reaching butterfly roof which appears to float above the airy metallic walls which support it. Its form references a high cloud cover, lifting and folding in the wind.
What Houzzers are commenting on:

Butterfly roof with horizontal siding and
vertical siding
accents at roofline.