Lee Kimball
General Contractors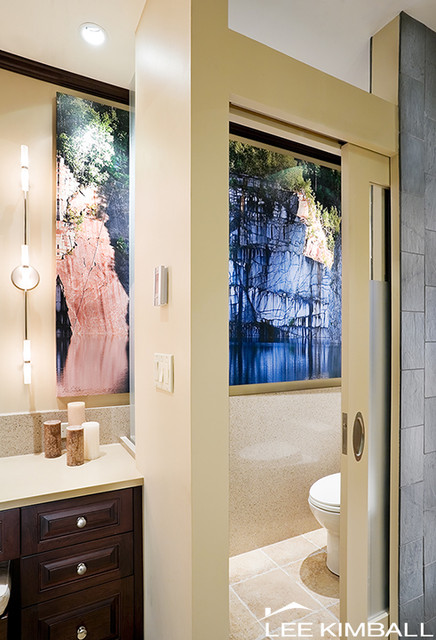 Lee Kimball - Boston Bathroom
Our client asked us to take their large, cold, awkward-shaped master bath and transform it into a more functional bath space that reflected their love of art. The existing bath was poorly thought out and did not utilize the round interior wall. We capitalized on the dynamic geometry of the space and incorporated it into our design.
Adding a custom teak bench to the curved wall we added motion to the room. the bench enables you to travel from the main part of the room and travel into the shower. A glass water shield separated the spaces but lets the eye travel on. the entry sequence is addresses be a tall linen cabinet set up on double quartz countertops that travels around the vanity side of the room. On the right and left are two tall slate fin walls helping focus attention towards the tall cabinet and sculpture niche to the left. the
water closet
is contained in a space that is contained and open at the same time, Translucent and transparent glass is used discretely. A major element of this space is a realistic quarry photograph by Stephen Baumbach. It is placed off axis and is meant to surprise a person after entry to the space. It is not contained within the water closet and seeps into the dressing vanity.
Filter and shield fiber optics
recessed wall
lighting creates mood and effect when desired. By using imagery and the existing geometry of the room to its full advantage we expanded the space and created an elegant and artful master bath
What Houzzers are commenting on: