bercychenstudio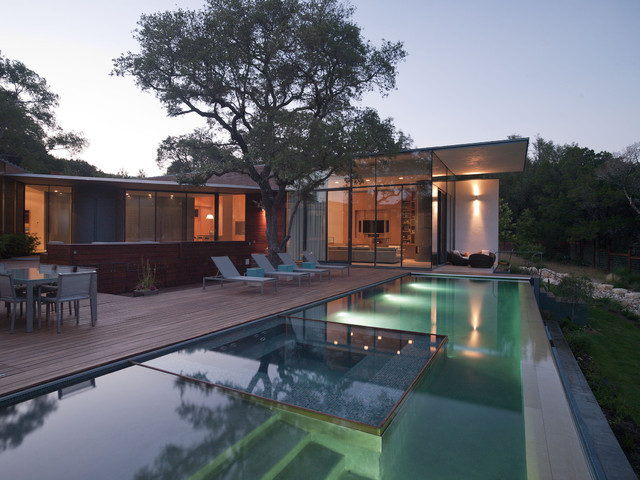 Cascading Creek House
Cascading Creek Residence was conceived less as a house, but more as an extension and outgrowth of the limestone and aquifers of the Central Texas geography. The
roof structure
is configured so as to create a natural basin for the collection of rainwater, not unlike the vernal pools found in the outcroppings of Enchanted Rock. These basins harness additional natural flows through the use of photovoltaic and solar hot-water panels. The water, electricity and heat which are harvested on the roof tie into an extensive climate conditioning system which utilizes water source heat pumps and radiant loops to supply both the heating and cooling for the residence. The climate system is connected to geothermal ground loops as well as pools and water features thereby establishing a system of heat exchange which minimizes reliance on electricity or gas.
The primary formal gesture of the project inserts two long native
limestone walls
into the site. The walls serve as the boundary demarking domesticated space with the vegetation outbound of these walls being native while the interior spaces are more lush and tropical. The program of the residence is configured along the stone walls each of which serves as the spine for the public and private wings, respectively. The offset between the main wings establish an exterior courtyard which will serve as an extended living space for much of the year. The siting of the boundary walls and building elements was informed by the presence and preservation of three mature native oaks. The house enjoys close proximity to both Emma Long Metro Park and
West Bull Creek Preserve.
Bercy Chen Studio LP
What Houzzers are commenting on: