Buckminster Green LLC
General Contractors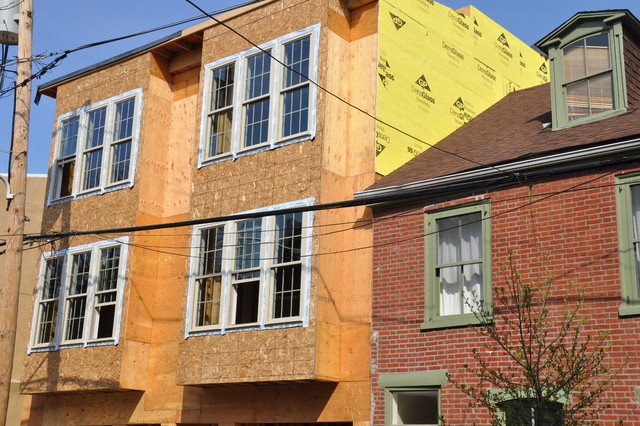 plywood examples
Kenny Grono
What Houzz contributors are saying:

Structural BenefitsYou can see three different sheet goods used in the construction of these new houses in Philadelphia. The yellow sheets are exterior gypsum, used to create a fire-resistant barrier between houses. The bays' faces are sheathed in oriented strand board, or OSB (more on that later). CDX plywood is everywhere except on the faces of the bays. Go back a hundred years and the facade of this building might have been sheathed in 1-by-8 boards, or whatever width the lumberyard had that day.Here's a thought experiment: Take four pieces of lumber and nail them into a square. Now push on the square from one side. Will it stay square? No, it will shift into a rhombus. Now cover this square with individual boards. Will this keep the square square? It's not much of an improvement. If you nail the boards diagonally this helps, but it's nothing like putting a single sheet of wood over the whole square — it wouldn't budge. This, in a nutshell, explains the structural advantage of being able to use a single piece of plywood.

1. Get referrals. Talk with people you know and trust. Your architect is an obvious source, but talk with family, friends, neighbors, lawyers, real estate agents and others who have built projects similar to yours.Browse professional listings to find general contractors in your area. Check out their reviews and browse photos in their portfolios to see how their work lines up with the scope of your project. You can even message them to get a conversation going. Are there recently completed or under-construction projects in your area? Ask the owners about their contractor and the working relationship they have with him or her.2. Verify licenses. Make sure your contractor candidates are licensed and in good standing with your state license board. Ask to see the contractor's pocket license, picture I.D. and certificate of insurance. Proper licensing demonstrates a company's best practices management, but hiring a licensed contractor will also protect you. For example, worker's compensation insurance is a contractor's responsibility, not a property owner's, but that's not the case if a contractor is not licensed or does not carry proper insurance. In California anyone who contracts to perform work on a project valued at $500 or more, including labor and materials, must hold a current, valid license from the Contractors State License Board. Check out the National Association of State Contractors Licensing Agencies to find information about contractors' licenses in your state.
What Houzzers are commenting on: