CliqStudios Cabinets
Cabinets & Cabinetry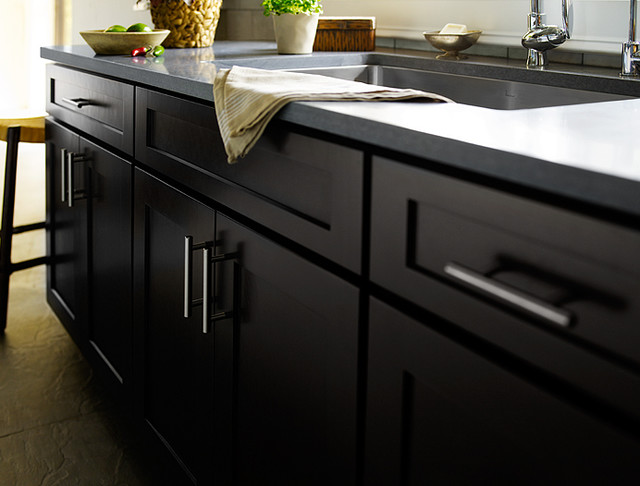 Black Kitchen Cabinets | Dayton Door Style | CliqStudios
In this apartment, the owner needed something simple and stunning. He chose the Birch Sable finish on these
dark kitchen cabinets
. Complemented by a beautiful gray countertop and white backsplash, he fell in love with his new space.
This photo has 4 questions
What Houzz contributors are saying:

How to repaint your kitchen cabinetsIf you plan to take on a boring-to-
black cabinet
painting project, you're in for a high-impact, affordable boost. Here's how to do it:Wipe down cabinets, drawers and face frames with warm water and cleanser to remove any surface stains and grease.Remove all hardware (handles, knobs and hinges). If you plan to reuse them, keep them labeled and together in a safe place. Fill any gouges or holes, especially if you're replacing the old hardware. Place doors on drop cloth while you work on them.Sand. If your cabinetry isn't particularly glossy, you won't need to do much, but it's always good to rough it up a bit, so the primer and paint will adhere to the surface. It will also help create a smooth base, which is critical if you plan to apply a glossy paint.Prime. Oil-based primers, though messier and stinkier, will provide the best protection and durability for high-traffic, high-use elements like kitchen cabinets. Let the primer dry overnight.Paint! Two coats of latex should do the trick. Semi-gloss will be easier to clean, high gloss will give you more drama. Satin is the lowest sheen you should go with in terms of durability and wipe-ability. Paint with short strokes, all in the same direction. Let dry thoroughly between coats.The wait: Experts recommend waiting three days before re-hanging doors to ensure that you won't muck up your new paint job with fingerprints, or risk having the doors stick to the frames.Rehang/reinstall, and let the compliments roll in.Next: More Kitchen Color IdeasHow to Set Up Your KitchenObsessed with Gray in the KitchenDark and Regal Kitchen DesignsBacksplashes for Wood Cabinets

Finishes for Shaker CabinetsPainted finish. This offers a more contemporary look, allowing you to keep the sharp, squared-off and recessed edges that make the cabinetry intrinsically Shaker. Depending on the type of timber, you may start to see hairline cracks at the joints as wood naturally expands and contracts over time, but this generally does not compromise the door's
strength
.

If you'd rather stick with something more traditional for your cabinets, then the timeless Shaker style is a sure bet. Learn how to make this look work with different counter, hardware and backsplash materials. Get the guide: Shaker Style Still a Cabinetry Classic
What Houzzers are commenting on: