dSPACE Studio Ltd, AIA
Architects & Building Designers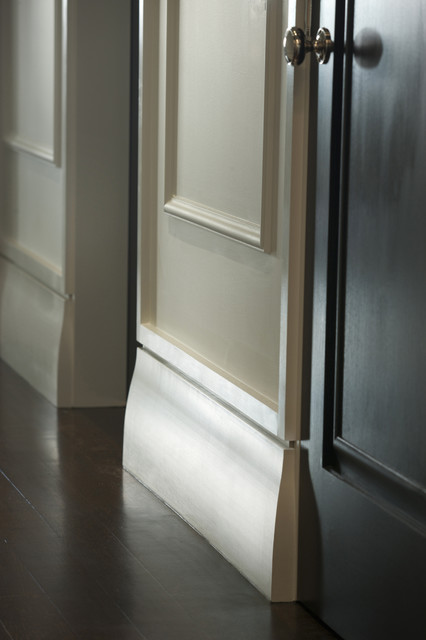 Custom Wood Base Board and Trim
This photo has 10 questions
What Houzz contributors are saying:

1. Base. Used where the wall and floor come together, the base, or baseboard, conceals any gaps between floor and wall finishes as well as provides protection to the wall finish from swinging feet, jostled furniture, etc. Traditionally it was composed of three separate parts: a shoe (the small, curved or beveled piece that transitions from baseboard to floor), the baseboard (the tall, flat piece) and the cap (an ornamental piece that sits atop the baseboard). But bases are now more often than not made of one piece for a cleaner and more contemporary aesthetic.By the way, when I was much younger, I went to architectural school in London and worked for a British construction firm. In addition to learning a new language (we all know a "lift" is an "elevator" and the first floor is the second floor), I learned the British term for a baseboard is "
skirting
." I like that term, especially as a base and a skirt have so much in common.

6. Interior Trim: 8 Must-Know ElementsTo the unfamiliar eye, trim all looks about the same. But this guide shows otherwise. Baseboards, chair rails, crown molding and window casings all get their shining moment in this ideabook.

This fun baseboard shape has the profile of a nice bordeaux, and is reminiscent of traditional Victorian baseboards, complementing the wainscot and traditional cabinet pulls above. But the lack of frills and the square groove at the top anchor this firmly in the present.
What Houzzers are commenting on: