Alison Hodgson
Media and Bloggers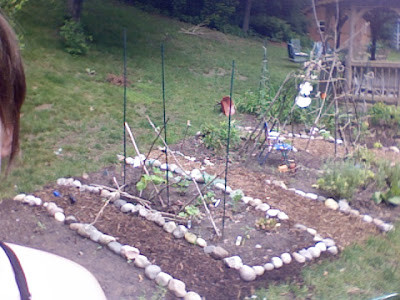 Garden of Eden
Alison Hodgson, taken using Photobooth, hence the shoulder. The "Garden of Eden" green bean tee pee, just after Eden inexplicably cut all the strings I carefully wound around the branches. She was four. I was in my thirties and may have pitched a little fit.
What Houzz contributors are saying:

The "Garden of Eden" was one section of a pie-shaped series of planting beds. Eden's plot was about 5 by 9 feet, and most of that was taken up by a tall tepee I made from tree branches tied and wrapped in twine. We covered the inner circle with a light layer of mulch and planted green bean seeds and morning glories at the base of every branch. To be honest, they never got enough sun to fully cover the structure, but we were able to harvest endless beans, and it was still a wonderful fort. Here you can see that as soon as the branches were set, the young gardener moved in and began decorating.
What Houzzers are commenting on: