Interior Art
Artists and Artisans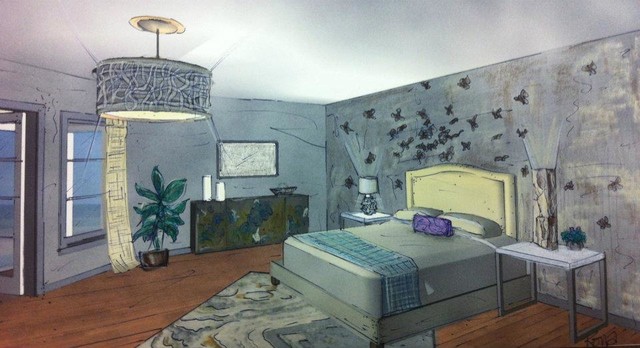 Philharmonic Design Houses - 1997-2014
Philharmonic House of Design, Laguna Beach, CA - 2012 - Bedroom

The designer gave me swatches from their fabrics and custom rug, along with photos of the rug & furniture selections.

Ultimately it was the gorgeous hand-woven silk rug from Tibet which was the inspiration for the headboard wall. The wall became an artistic rendition of both the ocean, in par with the ocean view and an abstract expression of the movement in the specialty rug. We added subtle drifts of silvery blue metallics to the wall to bring in the silky lustre from the rug. The bamboo floor was a builder-chosen material and there to stay. I suggested a process of coating the rest of the walls with an applied coating of a cotton/silk material to soften the noise level of the room and ground the space with a wrapped-up feeling of warmth. We added mica flecks in the plastered-on effect for a teensy bit of bling. It was lovely. This room became the house favorite, even in process. It simply felt good in there. Must have been the joy added through every brushstroke!

Interior Designers, Rona Graf and Stephanie Fryer of Grace Blu Designs, Inc. of Costa Mesa, CA www.graceblu.com

Please visit our project files for more views of the multitudes of award-winning specialty venetian plasters, Trompe L'oeil, faux finishes, wall glaze, painted furniture and custom art commissions on canvas we have performed over the years.