Houseplans.com
Architects & Designers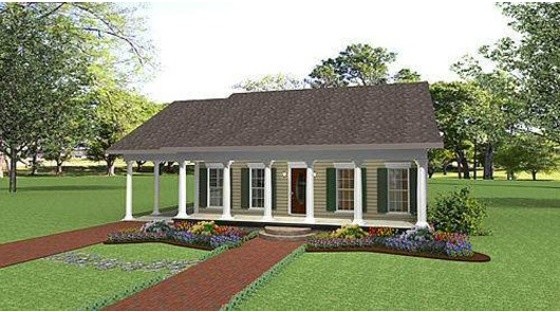 House Plan 44-159
House Plan 44-159
Call 1-800-913-2350
Plan 44-159
Starting at $620.00
Call to order at 1-800-913-2350
Square Feet
1152 sq ft
Bedrooms
2
Baths
2.00
Garage Stalls
1
Stories
1
Width
48 ft
Depth
42 ft
Plans
Main Floor
Reverse
Plan Description
Specifications
Plan Styles
Country / Farmhouse
Cottage
Traditional
Southern
Area
Total Sq Ft
1152 sq ft
Main Floor Sq Ft
1152 sq ft
Extra Rooms
Storage Area
Open Floor Plan
Great Room Living Room
Main Floor Laundry
Garage
Carport Porte Cochere
Front Entry Garage
Basic Features
Bedrooms
2
Baths
2.00
Potential Bedrooms
0
Garage Stalls
1
Stories
1
More
Economical To Build
Suited For Vacation Home
Unique Features
Designer Notes
Included
FLOOR PLANS: Included with your plans will be a detailed floor plan at 1/4" scale with a window and door schedule.
FOUNDATION PLAN: On many of our plans we offer you options on the type of foundation. The available options for each plan are shown on the page with the plans.
ELECTRICAL PLAN: This sheet will show the locations of all lights, receptacles, switches, etc. as well as a roof layout.
EXTERIOR ELEVATIONS: Our plans include complete front, sides and rear views, as well as any special exterior details.
INTERIOR ELEVATIONS: Including cabinets, cabinet details, columns and walls with unique conditions.
BUILDING SECTIONS AND DETAILS
TYPICAL SPECIFICATION SHEETS
Plan Type
Single family
Dimension
Height
22 ft
Width
48 ft
Depth
42 ft
Outdoor
Covered Front Porch
Covered Rear Porch
Wall
Framing
2"x4"
Kitchen
Walk In
Pantry
Cabinet Pantry
Roof
Roof Pitch
7
Bedroom
Main Floor Master
Bed Bath
Main Floor Bed Bath
Walk In Closet
Lot Characteristics
Suited For View Lot
Suited For Narrow Lot
Suited For Corner Lot
Pricing
Plan Set
Price
Master Set
$820.00
Basic Construction Package
$620.00
PDF Set
$820.00
Foundation
Price
Crawlspace
+$0.00
Slab
+$0.00
Additional Construction Sets
Price
Each Additional Set
+$50.00
Right-Reading Reverse
Price
Each
+$150.00
Mirror Reversed Sets
Price
Each Additional Set
+$40.00
Plan