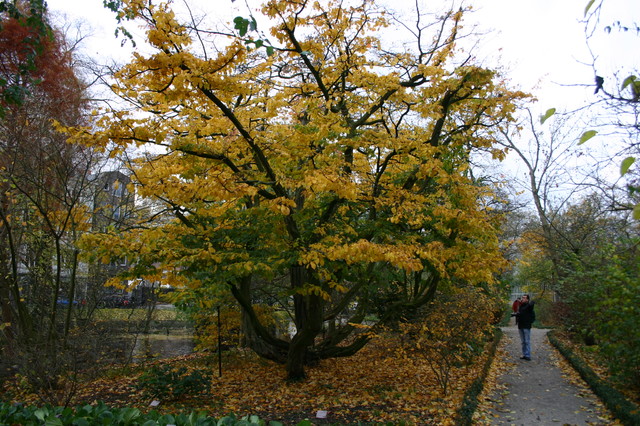 Parrotia persica
Photograph by Ryan Somma.

Used with permission. All rights reserved.
What Houzz contributors are saying:

Botanical name: Parrotia persicaCommon names: Persian parrotia tree, Persian ironweed, Persian ironwood USDA zones: 4-9Water requirement: Regular; do not overwater Sun requirement: Full to partialMature size: 20-40' height and spreadTolerances: Urban conditions, drought, heat, cold, windHow to use it. Low spreading branches and upright form make this tree perfect as a focal specimen. Prune and train Parrotia to create a formal and more upright structure, or let the tree's natural multi-stemmed and low branching habit grow out and create the perfect centerpiece to any woodland landscape. Parrotia makes a nice patio tree, and its proportions provide great shade. Since it can handle urban conditions, consider Parrotia as the street trees used to line your front yard, allowing passersby to admire its transitions through the seasons for many years to come.
What Houzzers are commenting on: