Viewpoint Lighting
Lighting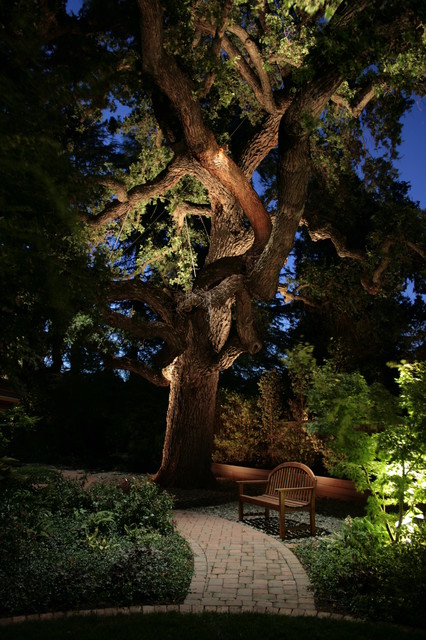 Walled Sacramento escape
A large Heritage Oak and established redwoods make this property a secluded woodland escape.
This photo has 4 questions
What Houzz contributors are saying:

Lighting Up the TreesUplighting trees can add drama to a night garden, particularly when the tree has a striking form. Huge, twisting branches seem alive when lit from within and below.

Significant trees take command of a landscape during the day. Once night falls, they disappear into the darkness unless appropriately placed lighting illuminates them. The effects can be remarkable. Whether underlit, flooded from one side or lit from fixtures mounted to branches, the features of the tree take on an extraordinary appearance when highlighted with light.Landscape lighting can be installed quickly compared to other projects. You can get your
oak tree
lit up in an afternoon. Professional installations usually take a few days. Factor in design time of at least a month.Who to hire: Lighting up a single tree or placing path lights along an entry walk can be DIY projects. A landscape service can often install landscape lighting as well. Large properties with multiple areas and features might need a landscape architect or a landscape lighting designer.Cost: Weekend warriors can probably make a small project come in under $1,000. But while some landscape lighting can be simple to install, there seems to be little middle ground. If you cross over to having the landscape lighting designed and installed for you, the cost will jump dramatically. Expect to spend between $10,000 and $20,000 for a sophisticated, professionally designed and installed system. Permit: Simpler projects may not need permits, but this is an area dealing with electricity, and proper installation is mandatory. If the new system connects or plugs into existing electrical systems, it is unlikely that a permit is necessary. But if it requires wiring or rewiring of any kind, it's best to call in professionals.Best time to do this project: Spring and summer, unless you live in a mild climate; then anytime should work.Find landscape architects and landscape lighting designers.
What Houzzers are commenting on: