Sarah Susanka, FAIA
Architects & Building Designers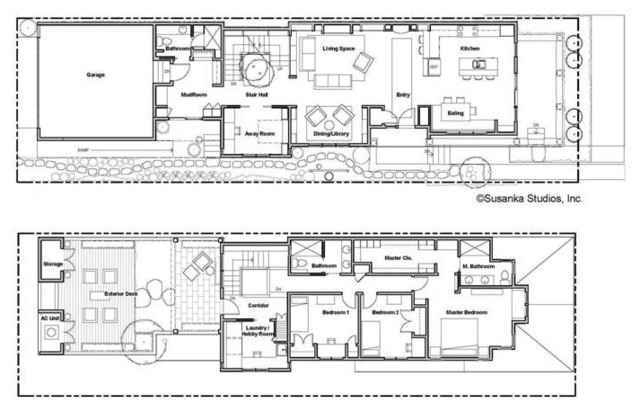 Libertyville Not So Big Showhouse
The Libertyville Not So Big Showhouse, designed by Sarah Susanka, FAIA.
This photo has one question
What Houzz contributors are saying:

The plans show how the home's linear plan of one room deep spaces is positioned to gather as much light as possible. This approach allows some passive heating of the house during those cold Illinois winters reduces the home's carbon footprint and saves on energy bills.More: 10 Elements of the Just-Right HouseNew Urbanism in Colorado

Of course, not all houses can be limited to one floor, so in this instance it helps to see lower and upper floors together. By placing one above the other, relationships between the floors can be grasped; the property line box in this example of one of Sarah Susanka's "Not So Big Houses" is particularly helpful. Here, the first floor is on top, and the second floor is below; the front of the house is on the right, so the garage visible in the top left sits off an alley. I find a couple things rather interesting in these plans: The front door's location on the side of the house splits the living-dining-kitchen space into two, but instead of the living room located up front, it's the kitchen, next to a covered front porch. Second is the way the roof of the garage is used as a deck.

Start with a well-structured plan that includes the spaces and rooms that you'll want and will use. Then arrange these rooms in a hierarchical fashion that gives clarity and facilitates how you move through and occupy your home.
What Houzzers are commenting on: