Houseplans.com
Architects & Building Designers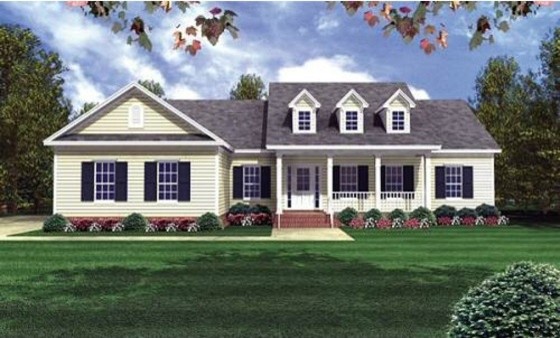 House Plan 21-187
House Plan 21-187
Call 1-800-913-2350
Plan 21-187
Starting at $800.00
Call to order at 1-800-913-2350
Square Feet
1818 sq ft
Bedrooms
3
Baths
3.00
Garage Stalls
2
Stories
1
Width
64 ft
Depth
53 ft
Plans
Main Floor
Reverse
Plan Description
The walk-out basement consists of a 36" door and two 36" windows, the
style of which is left up to the owner's discretion. The dormers shown
on the front roof serve no functional purpose. They are for aesthetic
styling only. The owner could choose to use
skylights
to light the great
room, but it would require building "light tunnels" because the roof and
the ceiling of the great room are approximately 3 to 4 feet apart.
Specifications
Plan Styles
Country / Farmhouse
Ranch
Traditional
Southern
Basic Features
Bedrooms
3
Baths
3.00
Potential Bedrooms
0
Garage Stalls
2
Stories
1
Wall
Framing
2"x4"
Extra Rooms
Volume
Vaulted Ceiling
Storage Area
Open Floor Plan
Great Room Living Room
Kitchen
Kitchen Island
Ceiling
Main Ceiling Ft
9 ft
Foundation
Daylight Basement
Lot Characteristics
Suited For Sloping Lot
Suited For View Lot
Suited For Corner Lot
Area
Total Sq Ft
1818 sq ft
Main Floor Sq Ft
1818 sq ft
Designer Notes
Included
Cover Sheet ? Showing architectural rendering of residence
Floor Plan(s) - In general, each house plan set includes floor plans at 1/4" scale with a door and window schedule. Floor plans are typically drawn with 4" exterior walls. However, details/sections for both 2"x4" and 2"x6" wall framing may also be included as part of the plans, or purchased separately.
Foundation Plan and Details
Electrical Plan with electrical symbols legend ? In general, each house plan set includes an electrical plan which will show the locations of lights, receptacles, switches, etc.
Roof Drainage Plan ? In general each house plan set may include a roof drainage plan which will show the layouts of all roof sections/planes.
Exterior Elevations
? In general, each house plan set includes all applicable front, sides and rear elevations,