Jennifer Bishop Design
Interior Designers & Decorators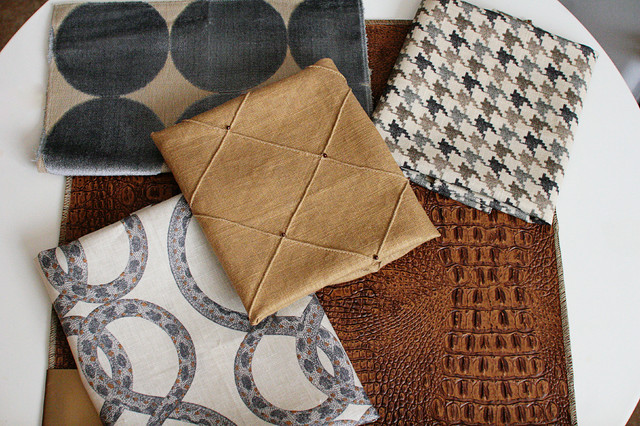 Fabric Patterns
What Houzz contributors are saying:

Different designers have different ways to approach choosing fabrics. Some like to use more solids; others use more pattern — or even a blend of the two. I love patterns, so I tend to shy away from solids and use textures in their place. I also like contrast, so I vary my fabric from light, to medium, to dark. Here's how I used my rules of thumb to come up with this pattern palette: 1. My starting print. I started with the snake-chain pattern, then chose the big polka-dot pattern. Both are large-scale patterns, but there is still enough contrast between the patterns because the dot is dark, with a heavy texture, and the snake has a light linen texture and well as color. 2. Build the color palette. The snake-chain pattern has a very subtle caramel color in it. This gave me the ability to pull that color in using the diamond pattern and the crocodile. I really like mixing in some warmth whenever I use grays. 3. Vary the style. The crocodile pattern almost reads as a solid rather than pattern but its texture adds depth and interest. I originally tried this with a more uniform snakeskin pattern, but it just looked flat. The croc added more richness.4. Vary the size of the pattern. The houndstooth I found last. This gave me a smaller pattern to mix in. I also liked it because it was a little unexpected and it had a nice range of grays. There were darker shades to pull in my polka dot and lighter to pull in my snake-chain pattern. I also like to think in terms of shapes when choosing fabrics. I did use a lot of geometrics, but in this case they seem to work well. The snakes have a softer curve, the polka dot a more solid of a curve and then the diamond a very straight angle that acted more as a texture.

Ideas on using fabrics: Mixing up fabrics and furniture shapes is a great way to blend styles. Try updating a mix of traditionally masculine fabrics and patterns like leather and houndstooth with a modern palette, and then use them on furniture with clean lines and a bit of curve.Alternately, pick a masculine furniture shape (Chesterfield sofa, wingback chair) and cover it in a soft, luxurious material like jewel-tone velvet. Either way, the idea is to shake it up a bit, so each piece appeals to both of you.
What Houzzers are commenting on: