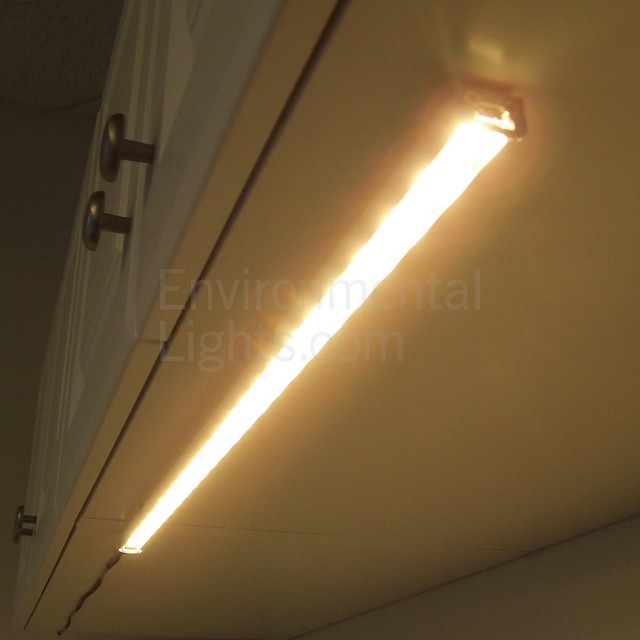 What Houzzers are commenting on:
HBSW24 LED Dimmable Under Cabinet Light 24 inch Soft White
This is the new series of premium
undercabinet
lighting from EnvironmentalLights. Color Rendering Index of 80+, 15% brighter than our previous series, locking connectors, and a new touch dimmer make this even better than our regular LED undercabinet lighting. EnvironmentalLights sets a new standard for excellent value in LED under cabinet lighting. High brightness, natural color, flawless dimming performance and useful accessories—these light bars have it all. Compare our prices against other LED under cabinet lighting, and you'll know why our undercabinet lighting is so popular.
Bright Soft
White light
bar uses Surface Mount Device (SMD) LEDs. Energy Efficient—only 10 watts consumed. This compact LED light bar is ideal for low-profile installations. It's less than 0.65 inch high including the clips, and is easy to hide behind cabinet fronts under cabinets, under shelves, inside cabinets and closets. 480-lumen output; delivers the recommended 30 to 70 footcandles to the work surface, assuming 18 inches from the bottom of the cabinet to the counter. Overall length is 23.6 inches, and with our sleek bar joiners, there's no additional length added if you link the bars. One bar joiner is included with each light bar. Dimmable using the dimming power supplies or dimmers listed in the companion parts tab. Super-smooth dimming is easy to achieve using a wide variety of standard magnetic dimmers on the wall, for a pro-quality architectural installation. More convenient than systems requiring reaching up to the light itself to turn it off or dim it. Linkable up to 8 feet of light bars per electrical branch. For larger installations, use multiple branches. Easy to install—2 quick-mount brackets and screws included per bar (3 for the 36 and 48 inch ones.) You can tilt the light bars up to 10° from horizontal by adjusting which grooves on the side of the light you use. Angle brackets are available as an option, so you can tilt the bars 45° from horizontal, with additional adjustment possible, from 23° to 53°. Durable optical grade lens is much less fragile than glass and provides pleasing and useful light dispersion. Beam angle (50%) is 110°; Field angle (10%) is 130°. Shield angle orthogonal to light bar is (180°-130°)/2 = 25°. Easy to put 2 of more bars in parallel to double the light output if you need very high brightness, using our novel bar jumpers. Tighty Righty connectors allow you to put your light bars against those pesky "fences" under the cabinets because the connectors protrude only 3/8 inch off the end of the bar. Lightweight. Fluorescent replacement; however no ballast is needed, so there's no ballast to burn out. No ultra-violet light, so it's great for lighting artwork and documents. High-grade aluminum extruded housing is rugged and handsome. Shock and vibration resistant. Operating range: 0° - 150° F. Energy-efficient-saves around 85-90% versus incandescent light. No radio frequency interference. No buzzing noise. No flickering. Instant on. Maintenance-free. No mercury to contaminate the environment upon disposal. Long life. 3-year warranty, if you use our drivers. UL listed, US and Canada E345867. Works in conjunction with our UL approved adapters and dimming power supplies.
Please see Documentation Tab for details on exactly what you need to make your system work the way you want it to. This light bar requires a 24 Volt DC power supply. You will also need a power cable (see companion parts below). Without a power cable you cannot connect power to the special fitting on the end of the bar.
Product Specifications
Sold By

Category

Style