Interior Art
Artists & Artisans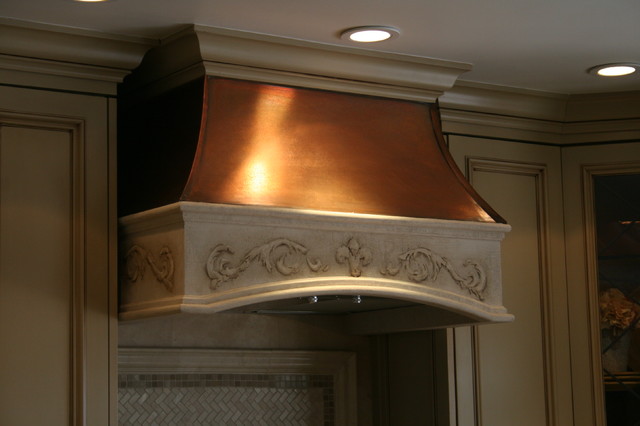 Kitchen Hoods & Backsplash Art
Kitchen Hood - After
Orange County, CA
This hood is real copper sheeting. The wooden trim on the bottom came in all wrong, the finish way to simple.
Interior Architectural Designer, Courtney Ellis of Ellis Design Group of Orange County, CA www.ellisdg.com
We treated this focal point with Venetian Plaster in our "Concrete Finish" venetian. Then we added a custom designed handcut stencil in raised relief sculpture detail with
brushstrokes
to add depth and beauty. The design pulled in a simple version of the patterns in the fabrics on the chairs in the adjacent Dining Room. It turned out just gorgeous. Our designer was thrilled with the samples; our client was happy with the new look added to her newly completed kitchen. It was the perfect topping on the cake.
Please visit our project files for a glimpse into the world of what paint can do to transform a space. Find us at Jacqueline Coburn's
Interior Art
& peek through our award-winning specialty finishes & artwork in the form of faux, wall glaze, Trompe L'oeil, wood & furniture finishes, Venetian Plasters, painted ceilings & floors that are stunning; and so much more! We hope to inspire you!
What Houzzers are commenting on:

copper center, leave lower trim black