ADRIS GROUP
Interior Designers & Decorators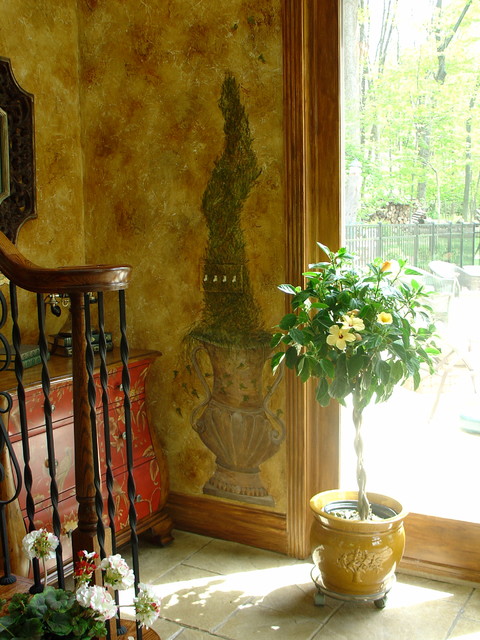 Old World flair , Great room
This hand painted topiary is framing the French door . The stairs on the left connect the addition , the Gret Room to the rest of the house
What Houzz contributors are saying:

Acclimation to the indoors. Because conditions differ widely between the inside and outside of your home, a gradual introduction (or reintroduction) to the indoors is vital. Sudden changes in temperature, light and humidity can cause irreversible trauma to plants, and at the least can result in yellowing leaves, wilting and even partial death. Plants that have been outside in high light should be placed in similar light indoors, such as near a south-facing window or under fluorescent plant lights on a timer for 16 hours a day. To acclimate sun-loving
outdoor plants
to a dimmer indoor spot, keep them in a shady spot outdoors for a week or two before moving them indoors.Even with the greatest care, outdoor plants may wither and droop when moved indoors. If some leaves turn yellow or drop off, don't despair. Trim the dead growth, keep the humidity levels up and put the plants in a bright location, and they might recover once they are familiar with the conditions in their new home.
What Houzzers are commenting on: