Kim Rooney Landscape Architecture
Landscape Architects & Designers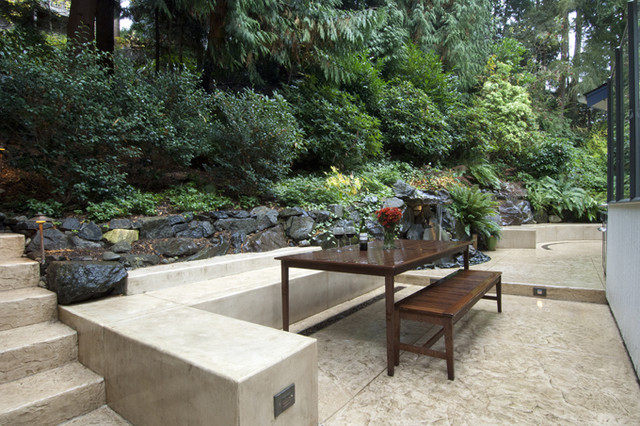 Contemporary Hardscape
The principal challenge was to design a
usable space
that provided seating for 25 in a confined area that also addressed aesthetics, maintenance, drainage and slope stabilization.
The long narrow space, (approximately 9 x 60') is located at the bottom of a 40% slope in an environmental critical area. A 3' to 6' high
rockery
is one side and the back façade of the house on the other side. A 3' wide pathway is the only exterior access to the project. The site was moss covered, wet, dark and subject to high litter trees.
In order to maximize space and stabilize the rockery sit walls were designed into the existing rockery. A wide curved sit wall cups a 1/2-moon shaped patio extends from the
interior living room
. An L-shaped sit wall creates alfresco dining off the kitchen. The hardscapes slope toward custom drains in front of the sit walls, eliminating standing water. Low voltage lighting and cream colored concrete brighten the landscape. Concrete paving provides a low maintenance surface and a project with longevity. The end result is a highly functional, successful outdoor room enjoyed from the inside and the outside.
The client wanted a water feature as a focal point. The difficulty was how to incorporate it into the landscape so that it would not undermine the rockery. Without machines the pipes and equipment would have to be in front of or on top the rockery. How would we hide the equipment? How would get the water up to the top of the rockery without moving any of boulders?
The solution was uniquely innovative. The designer hand selected a large
triangular
shaped 4" flagstone then drew lines on the stone with chalk where to carve a river into the face the stone. The artisan then chiseled this stone into a custom weir that would direct the water away from the rockery and fall into a basin of Mexican pebble. A second large piece of stone was secured vertically under the direction of the designer on site to hide the liner and the pipe. Both stones were doweled into the rockery. The effect of the water falling is like a series of ever changing diamond shaped due to the rough cut of the face of the stone.
This photo has one question
What Houzzers are commenting on: