Interior Art
Artists and Artisans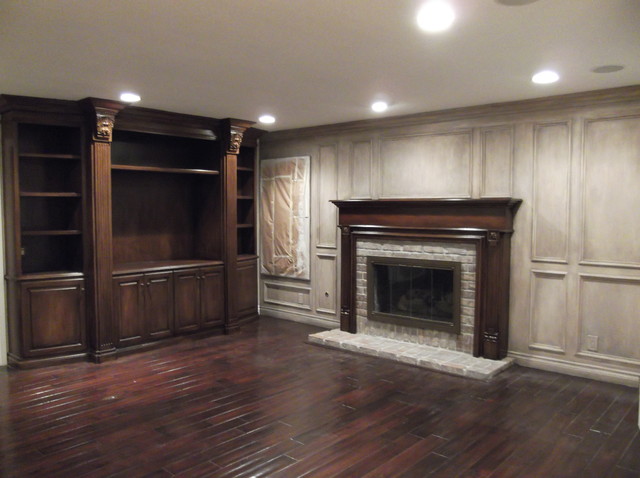 Painted Furniture Finishes & Faux Wood
Built-In,
Fireplace Mantle
& Wood Paneled Wall - After
Family Room
This client was moving into their new home in Orange County; a home lost in divorce by a couple with entirely different tastes from the new owners. Firstly we had to tackle getting rid of the white
washed finish
and at the same time shift and balance the negative energies in this space that had permiated this house through the grief & anger of the previous owners.
I proposed we add a deep rich wood finish in this room to coordinate with the dark wood floors. We changed the white Built-In and
Fireplace Mantle
to rich wood tones. The surrounding paneled wall was changed to a painted wood finish in a regal nobleman's finish which grounded the room without going too dark. There was a hushed yet masculine feeling in this room when we finished the process. The paints changed the look. The energetic intentions of releasing the old, heavy, conflicting energies of the previous family settled in about midway through the process when we felt almost an on/off swich occur from heavy energies to light, loving and bright. All this energetic shifting took place through our intentions & positive energy which flowed through the tips of our paintbrushes. The result was a shift in energy throughout this home. As a distinct validation of the shifting that occured in the energy, our client arrived later in the day of the "shift" and burst out in spontaneous tears of joy. She felt it. She told us she felt the change with her words, as she looked at our work in awe.
Our clients were very happy with the results of the transformation of this space & their home. Once that "shift" occured, all construction delays, mishaps and contractor arguments stopped in that moment. At once, everything began to flow with ease and grace throughout the rest of the remodel process. This allowed our clients to move in just in time for the holidays and just in time to begin their new life together as a newly blended family.
Please visit our project files to see more examples of our paints, stains, glazes and trompe l'oiel artwork in their highly transformative use in homes, businesses, restaurants, hotels & sacred spaces. Visit Jacquelinne Coburn's Interior Art for more conscious design elements - we hope to inspire you!
What Houzzers are commenting on: