WJM Architect
Architects & Designers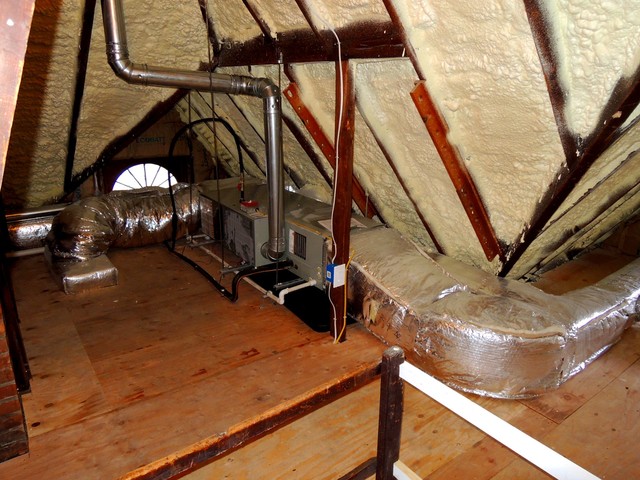 Queen Anne 1870 restored
WJM Architect
This photo has 2 questions

What Houzz contributors are saying:

Thermal insulation is only one part of the puzzle. But it's a pretty big one. It may help to try to imagine your home like a balloon full of hot water; the balloon is the building envelope. You can feel the heat trying to escape through the material (this is conductive heat loss). If you wrap the balloon in a towel, it may take longer for the water inside the balloon to lose all of its heat. But if there's a hole in the balloon, all of that hot water will leak out at a much faster rate. A home's envelope is similar. You can add insulation to the roof or attic, the walls and the slabs, but if you have an air infiltration around your window frames (a very common problem in many homes), the effectiveness of that insulation that you added will be somewhat negated because all of the heat will just go out the window frame.This is why the installation of your insulation is perhaps even more important than the material you select. In fact, ease of installation is one of the major reasons that spray foam insulation (seen here) is so popular in the United States.

Why is SPF so popular in the United States? Spray foam has the potential to tackle air leakages better than many other insulation options. Because it is sprayed into place, the foam can fill up cavities and block any small holes that could compromise your building envelope. It can be applied to vertical or horizontal surfaces to act not only as thermal insulation, but also as an air barrier. It's synthetic and does not attract rodents or insects. When applied properly, spray foam can contribute to a successful energy-efficiency strategy.As with many aspects of the building market, there are variations in what is considered common around the world. Here in Italy, for example, spray-foam insulation has not taken hold of the market as it has in the U.S., for a variety of reasons outside the scope of this ideabook. As a result, it is more difficult to find installers here, although there are versions of SPF available on the European market.
What Houzzers are commenting on: