Avente Tile
Tile, Stone & Countertops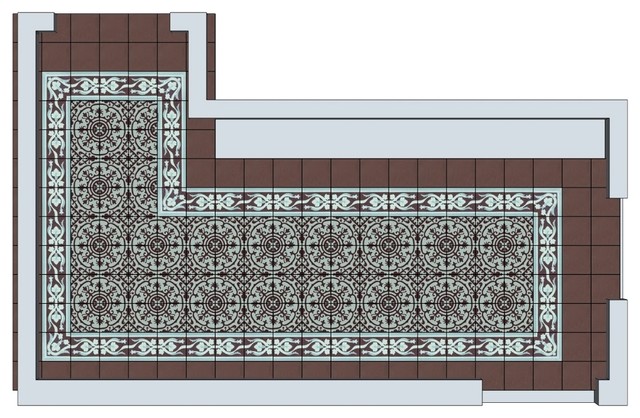 Miskella home Mudroom
The homeowners chose our Cuban Heritage Design 140-2B handmade cement tile to grace the floors of both their mudroom and utility room.

Cement tiles are the perfect choice for this high-traffic installation not only because of the bold, contemporary colors of this Cuban Heritage pattern, but also because of the inherit strength, longevity and customization options only handmade cement tiles provide.

This newly designed, non-rectangular mudroom space will use our classic Cuban Heritage Pattern CH140-2B, in the colors of Turquoise, Brown, and Caribbean Blue. This 86-sq.-ft. area will utilize not only the patterned Cuban Heritage tile, but it will also integrate our Heritage Brown field tile.

The adjacent utility room will utilize 30-sq.-ft. of our budget-friendly handmade Heritage Brown field tile, also in an 8"x8" format. By combining patterned cement tile with plain, solid-colored field tiles, your design goals can easily be reached.

That's where our Design Services comes into play. We'll help bring your visions to life with the tile patterns and formats you would like to see.