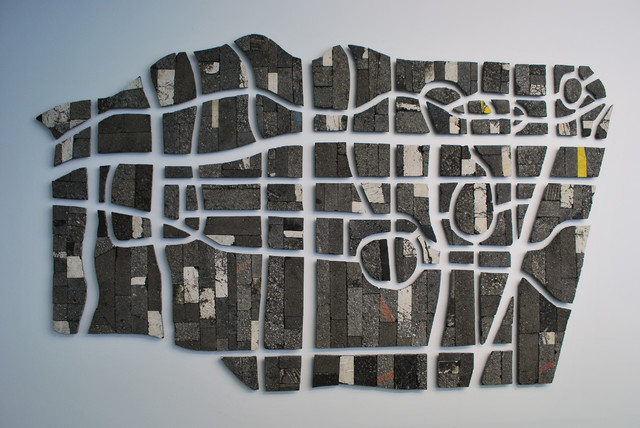 John Whitmarsh
Photos courtesy of John Whitmarsh
What Houzz contributors are saying:

Designed to leave gaps shaped like curvy and winding roadways, Whitmarsh created this wall mosaic with asphalt salvaged from demolished roadways. The piece is large — 6 feet by 10 feet — and was installed in an architecture and engineering company in Phoenix, Ariz. Q: How did you get started in product design? What makes you excited about this particular area of design?A: I really got interested in sculpture after college. I wanted to work with every material I could get my hands on — plaster, fiberglass, ceramic, metal, wood, etc. It's the process that I enjoy the most, not just the end result.Creating dimensional wall sculpture is great because the imagination can really run wild with all the possibilities for different textures and patterns. It isn't restrained by needing to be functional like a table or lamp — its purpose is to inspire and encourage discussion.

Step 6: Be Willing to Look at New Things Keep your eyes open and be willing to wait for the right pieces. Sometimes a person will make a sweeping generalization, like "I don't like art." Well, that probably isn't the full story. It is more likely this person hasn't encountered a style that resonates with them.Case in point: This wall mosaic by artist John Whitmarsh was created by piecing together bits of discarded asphalt, and has a modern urban vibe that could appeal to someone who hasn't found his or her art niche yet.
What Houzzers are commenting on: