deonva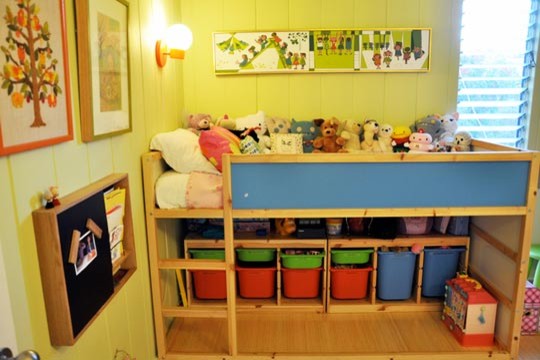 Good Questions: Separate Areas for Sleeping and Playing? | Apartment Therapy Ohd
Good Questions: Separate Areas for Sleeping and Playing? Jackie is looking for suggestions: My daughter has a large bedroom. It is 12'x13' We are having trouble making 2 separate spaces, one space for sleeping and one for play... (Note: Include a pic of your problem and your question gets posted first. Email questions and pics with QUESTIONS in subject line to: nursery(at)apartmenttherapy(dot)com ) I am just not sure how to situate anything. She is 3 so she has A LOT of toys. Unfortunately we do not have her a playroom at this time. Do you have any suggestions? Please add your suggestions on how to divide the space creatively for Jackie...thanks! Photo: Seonna's Modern Toy Box Tags Good Questions Related Links Share Comments (4) Do you have an ikea nearby? Ikea has curtain panels that you can buy and I think they are a attractive way to separate a space AND add interest to a room. Here's a picture so you can see what I'm talking about
http://lh6.ggpht.com/_6Y250ctJQlE/RiYiNGOPxGI/AAAAAAAAA9c/UvBlzBaAB2E/P1040522-1.JPG
posted by Dianne @ Colorblind Productions on January 7th 2009 at 1:45pm view Dianne @ Colorblind Productions's profile Well, we are in the process of moving but our three year old son's bedroom was set up in a similar fashion--we only had a two bedroom apartment and I didn't want our living room to be the "playroom". I kind of borrowed from the Montessori concept of work stations and tried to set up his toys so they were easily accessible and organized by use. Please forgive the mess:
http://farm4.static.flickr.com/3071/2986630757_f7fc8cb818.jpg?v=0
You can see the play kitchen with the kitchen materials, next to that is a bucket of play food (pottery barn kids buckets are fantastic), next to that the table for "eating", and to the right is a nest cube filled with dress up costumes (and a sword hilt sticking out.) To the right (and not included in the picture) is his chalkboard/dry erase/pull down paper easel. The books up high are the "nice" books tha
What Houzz contributors are saying:

Use bins to organize things. The stuff that you don't leave out on your desk does still need to be organized. Color-coded bins work just as well in home offices as they do in kids' rooms.
What Houzzers are commenting on: