deonva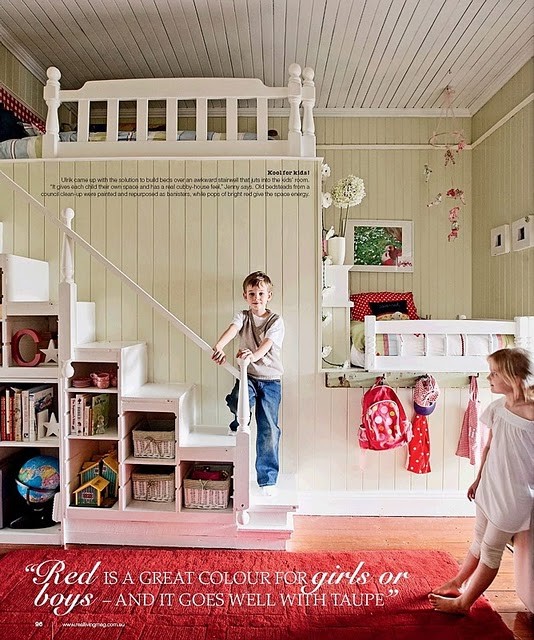 Turning One Room into Multiple Rooms | Apartment Therapy Ohdeedoh
Turning One Room into Multiple Rooms Do you have two kids but only one bedroom? Do you desperately want a playroom? Check out this multi-purpose space created from just one room. This one room with high ceilings has been transformed into three distinct spaces. A bedroom for each of the kids and a playroom. The different heights of the lofted beds make for separate spaces, allowing for privacy and quiet time. The stairs separate the main level play area from the sleeping lofts above. We love the use of the staircase as additional storage. Via: Table Tonic Image: RealLivng Comments (7) prehaps i am a complete baboon, what is happening with the space under the loft bed??? posted by jackied302 on January 20th 2010 at 3:53pm view jackied302's profile jackied302: we wondered the same thing! Because the photo only shows this perspective, we can only imagine that perhaps there is a little play area down underneath. janie posted by janie on January 20th 2010 at 3:56pm view janie's profile I was wondering the SAME thing...?! posted by ChristinaWeedon on January 20th 2010 at 3:57pm view ChristinaWeedon's profile Looks awesome, but I wish there were more pictures. Seems like a lot of work and money to set up, though. posted by LinnyBee on January 20th 2010 at 3:57pm view LinnyBee's profile ... and you'd still have to have a pretty large room. posted by Angus on January 20th 2010 at 4:00pm view Angus's profile how do they change the beds?? posted by ifmothern on January 20th 2010 at 4:31pm view ifmothern's profile From the text on the photo, it looks like the area under the beds is a stairwell for the rest of the house. posted by LaneC on January 20th 2010 at 4:41pm view LaneC's profile Post a comment Our privacy policy has recently changed. Please review our policies and terms and check the box to continue. I have read and agree to Apartment Therapy's Privacy Policy , Terms of Use and Infringement Policy . Comment are allowed. URLs will be converted to links, a
This photo has one question
What Houzz contributors are saying:

Finally, I had to include this photo because it shows an ideal
shared room
. The colors are simple, but fun, and the space is carefully divided into different levels, almost creating separate rooms within one larger room. If you've got the space and the inclination, this is a great approach.
What Houzzers are commenting on: