Marina Klima Goldberg - Klima Design Group
Window Treatments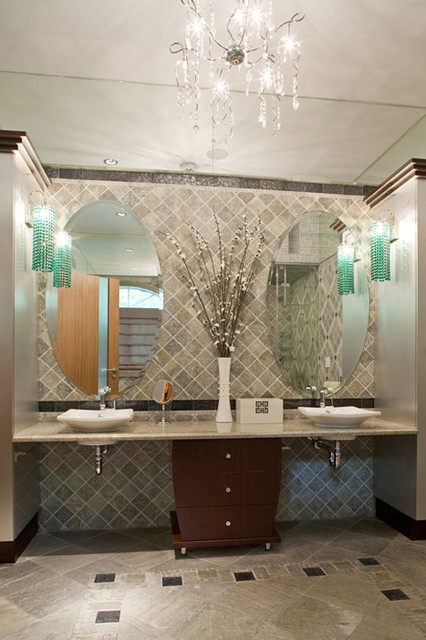 Modern Bath with Bathroom Tile Designs
Master
bathroom interior
design- Klima Design Group, LLC , Photography: peter Rymwid.
This modern bathroom features designer's bathroom tile designs. It is all about artful manipulation of inexpensive materials, including natural stone, glass and metal tiles. The style is modern classic where there is little distinction between classic, modern and contemporary. Functionally it meets the needs of a client with limited mobility. For slip - resistant flooring, we used rough surface stone tile. Bathroom vanity cabinets are only in the middle allowing for a
wheelchair
access. The bath tub was removed to maximize space for the wheelchair and a beautiful modern forty inch door provided for the access.
Multi level lighting options were used. Recessed lighting was installed over the vanities while wall sconces and a chandelier created glamour the owners wanted. The sparkle and the contemporary lines of the chandelier together with funky bright green sconces infuse color and glamour. The level lighting is optional and dimmers are provided for comfort and safety.
What Houzzers are commenting on: