Scout Gunsch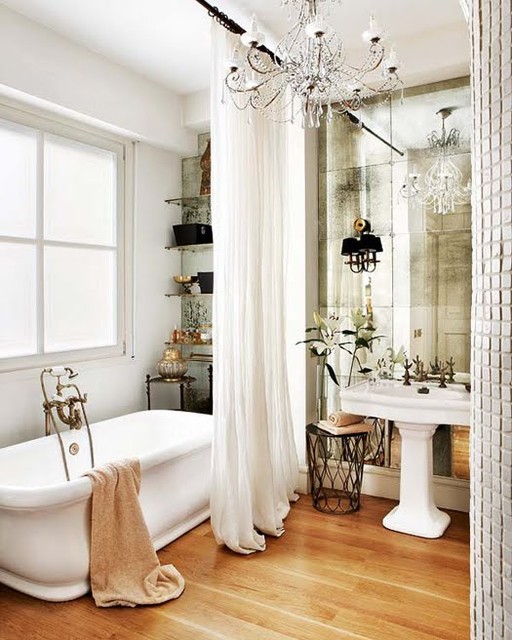 dress, design & decor – a daily blog: perfect tubs...
Tuesday, November 17, 2009 Love these gorgeous bathrooms and the fact that tub is all on it's own... pretty and classic looking... You might also like: By Daniella Labels: decor 7 comments: le sigh... I LOVE the curtain over the bathtub... what a fantastic idea!! These bathrooms are so feminine and beautiful. Forget the tub, I'm obsessed with the chandi!!! Perfect to drain away the day's woes in. Now, I just need a big enough bathroom :p Gorgeous! I love these tubs. So much more interesting than most. Nice and deep. Hmmm??!! Maybe I'll have a soak right now! Oh, I wish I had a tub. One of the downsides to living in a city. Hopefully my next apartment will have a nice tub. Love both of these photos! Dylana said... That tub is wonderful! Lovely blog! colormenana.blogspot.com Subscribe to: Post Comments (Atom) Daniella Hello! As a designer, I believe that style and design go hand in hand. Whether it's fashion, graphic, or interior design there's always something I want to share... View my complete profile Send a thought or two Obsessions to Click On Amongst the Favourites Interviews Guest Posts Dress, Design & Decor Over On... Sponsor Would you like to advertise on Dress, Design & Decor? Email for more info. Friends RSS Posts Posts Comments Comments Tweet Tweet Tweet Tweet *the bike streamers went over well, lol...
http://twitpic.com/11l05w 1 day ago @ DiscoverID *awww, thank you! so sweet... right back at you! 1 day ago @ teebarnes *agreed! thanks so much! 1 day ago @ caitlingoebel *thank you! right back at you! 1 day ago follow me on Twitter Archive Feb 2009 (119) Categories & Features decor (482) design (165) dress (563) Friends & Favourites
This photo has 2 questions
What Houzz contributors are saying:

At first glance, I thought that wonderful metal stand next to the sink was a trash can. Wouldn't it make a great one? Of course, it would ned a flat bottom and a bag to line it but I think the contrasting color (in comparison to the white of the rest of the room) would make it a terrific functional piece here.
What Houzzers are commenting on: