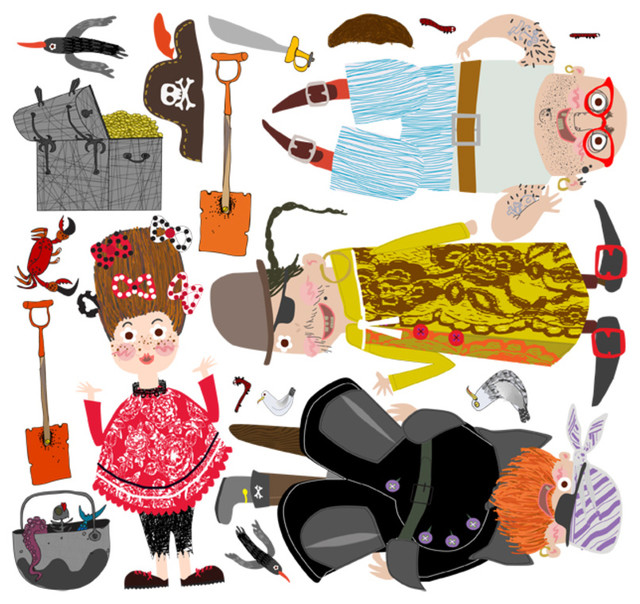 Fabric Decals - Ahoy Matey
Ahoy Matey! Blustering in from sea; with a jolly old song, the pirates come along. Made from old bamboo and dead old fish, these pirates will make you want to wish! Use as a single design for simple fun, or combine various favorites to add some funky & spunky to any room for an interactive experience.
PICTURE POETRY unique in its concept and application you create your own fabulous & flexible artistic mural constantly changing as your mood depicts and time evolves.
Set includes:
Bold Bob the Shiny Pirate
Piper Peter the Baker
Ravishing Ryan
The Hungry Mate
Cute Cora the Sweet Lady
3 Pirate Treasure Toys includes: one treasure chest, two digging spades
3 Pirates Things includes: one skull hat, one sharp sword and a
crock pot
with 3 day old fish stew
10 Pirates Friends includes: 2 blackbirds, 2
seagulls
, 1 birds sticky nests, 3 dangling worms and 1 busy crab
Height: Varying from about 1 worms 34 Pirates
Your order will arrive on a sheet size of 49" x 42". It will be in a well-protected poster tube, which is recommended for storing the backing paper in. With every set of Pop & Lolli's
decals
you purchase, (it's) chic 2 change will provide educational materials and resources to positively influence a South African child in need.
The fabric wall decals are removable and repositionable
Clean with a damp cloth
Safe for kids
Made in the USA
Product Specifications
Manufactured By

Pop & Lolli

Sold By

Materials

Fabric

Designer

Mia Viljoen

Category

Style
Ready to ship to the Continental U.S. in 9 days.
Product Description
Ahoy Matey! Blustering in from sea; with a jolly old song, the pirates come along. Made from old bamboo and dead old fish, these pirates will make you want to wish! Use as a single design for simple fun, or combine various favorites to add some funky & spunky to any room for an interactive experience.
PICTURE POETRY unique in its concept and application you create your own fabulous & flexible artistic mural constantly changing as your mood depicts and time evolves.

Set includes:
Bold Bob the Shiny Pirate
Piper Peter the Baker
Ravishing Ryan
The Hungry Mate
Cute Cora the Sweet Lady
3 Pirate Treasure Toys includes: one treasure chest, two digging spades
3 Pirates Things includes: one skull hat, one sharp sword and a crock pot with 3 day old fish stew
10 Pirates Friends includes: 2 blackbirds, 2 seagulls, 1 birds sticky nests, 3 dangling worms and 1 busy crab

Height: Varying from about 1 worms 34 Pirates
Your order will arrive on a sheet size of 49" x 42". It will be in a well-protected poster tube, which is recommended for storing the backing paper in. With every set of Pop & Lolli's decals you purchase, (it's) chic 2 change will provide educational materials and resources to positively influence a South African child in need.
The fabric wall decals are removable and repositionable
Clean with a damp cloth
Safe for kids
Made in the USA
Need more info? Ask a question