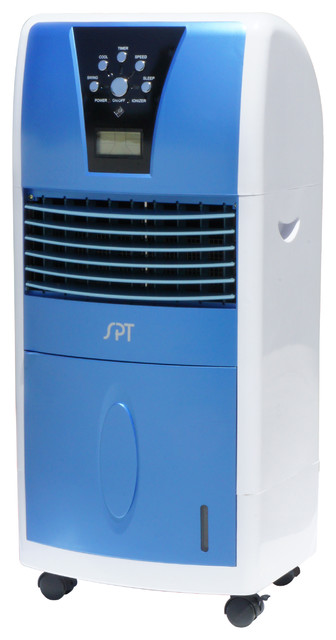 Evaporative Air Cooler with Ionizer
This Evaporative Air Cooler, Humidifier, Air Filtration and Fan with Ionizer is versatile and an economical way to cool and humidify the surrounding air. Designed with micro-computer control system, this unit can lower surrounding temperature and humidify the air through the principal of water evaporation. The Cooler easily rolls from room to room with lockable casters. This Air Cooler shoots a stream of air with oscillating louvers, to evenly distribute refreshing cool air. Can also be used as a fan or humidifier if temperature is not an issue. The
remote control
allows you to easily change settings.
The Air Cooler works by endothermic reaction (a reaction that consumes heat), so this evaporative Air Cooler sucks air through a wick saturated with water. As the air flows through the wick, some of the water evaporates into the air, consuming the heat that was in the air. An air stream is then blown out the front of the unit and is considerably cooler than the current room temperature! This is not an air conditioner and therefore uses much less energy.
Note: This unit is best used in dry climates or open spaces. Leave
window
/door open when temperature or humidity rises in the room. Add as much ice as possible and set unit next to you for best effect.
Features and Functions
- Computer-controlled system with LED panel
- Fan, Cool, Humidifier, Air Filtration and Ionizer
- Double-layered, filtration mesh water
curtain
- Remote control
- Activated carbon filter
- Washable filter
- Three air speeds: H / M / L
- Timer: from 0.5 ~ 7.5 hours setting
- Locking casters
- ETL
Specifications
Input voltage 120V / 60Hz
Power
consumption
60 W
Air flow 500m3/hour
Water consumption 0.5 ~ 0.6L/Hr
Fan speeds 7.4 m/s
Ion density 2,800,800 ~ 3,000,000/CM3
Dimension (W x D x H) in. 14.5 x 11.5 x 31.75 in.
Net weight 20 lbs
Product Specifications
Manufactured By

Sunpentown

Sold By

Width

14.5"

Depth

11.5"

Height

31.75"

Color

Blue/White

Materials

Plastic

Category

Style
Ready to ship to the Continental U.S. in 2 - 7 days.
Product Description
This Evaporative Air Cooler, Humidifier, Air Filtration and Fan with Ionizer is versatile and an economical way to cool and humidify the surrounding air. Designed with micro-computer control system, this unit can lower surrounding temperature and humidify the air through the principal of water evaporation. The Cooler easily rolls from room to room with lockable casters. This Air Cooler shoots a stream of air with oscillating louvers, to evenly distribute refreshing cool air. Can also be used as a fan or humidifier if temperature is not an issue. The remote control allows you to easily change settings.

The Air Cooler works by endothermic reaction (a reaction that consumes heat), so this evaporative Air Cooler sucks air through a wick saturated with water. As the air flows through the wick, some of the water evaporates into the air, consuming the heat that was in the air. An air stream is then blown out the front of the unit and is considerably cooler than the current room temperature! This is not an air conditioner and therefore uses much less energy.

Note: This unit is best used in dry climates or open spaces. Leave window/door open when temperature or humidity rises in the room. Add as much ice as possible and set unit next to you for best effect.

Features and Functions

- Computer-controlled system with LED panel
- Fan, Cool, Humidifier, Air Filtration and Ionizer
- Double-layered, filtration mesh water curtain
- Remote control
- Activated carbon filter
- Washable filter
- Three air speeds: H / M / L
- Timer: from 0.5 ~ 7.5 hours setting
- Locking casters
- ETL

Specifications
Input voltage 120V / 60Hz
Power consumption 60 W
Air flow 500m3/hour
Water consumption 0.5 ~ 0.6L/Hr
Fan speeds 7.4 m/s
Ion density 2,800,800 ~ 3,000,000/CM3
Dimension (W x D x H) in. 14.5 x 11.5 x 31.75 in.
Net weight 20 lbs
Need more info? Ask a question