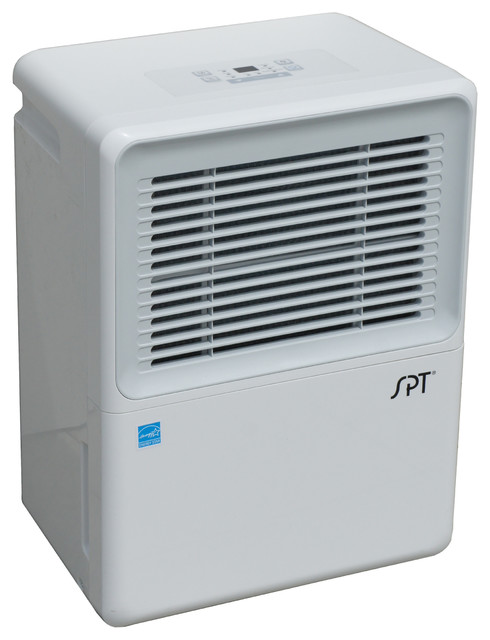 Dehumidifier with Energy Star, 70 Pt.
Designed to remove excess moisture from your home quietly and efficiently. A necessity for those suffering from dust mite, allergies or simply for those who wants to keep their indoor humidity at a comfortable level. Air that is too damp can cause itchy skin and nasal passages, condensation on windows, water damage to materials, mold growth and rotting of wood materials in your home. SPT dehumidifiers remove moisture from the musty air so you can enjoy year-round comfort in your home or office. Humidity level for this unit can be set as low as 35% with Normal or Turbo fan speed. Energy Star rated. Features washable air filter with reminder indicator and casters for easy mobility.

Features and Functions

- Choice of continuous de-humidifying or 35 ~ 85% humidity settings (in increments of 5%)
- Full bucket indicator with auto shut-off
- Memory IC (unit restarts at previous setting after power failure)
- Washable air filter with reminder indicator
- Removable bucket
- Continuous drainage option (hose not included)
- Casters for easy mobility
- Time delay auto protection
- 1 to 24 hours timer
- 2 fan settings: Normal and Turbo
- Soft touch electronic control panel
- Quiet operation
- UL approved
- Energy Star

Measuring conditions is based on factory testing conditions. Room Temp: 80F, Room Humidity: 60%.
Capacity will vary according to actual room ambient temperature and humidity conditions.

Specifications
U.S. pints / 24 hrs (AHAM)
70 pints
EEV
1.85L/kW.H
Water tank capacity
6 Liters
Power supply
115 V / 60Hz
Power consumption
720W / 6.9A
Starting current
33A
Noise level (High)
58.5
Air Flow CFM (High/Low)
320/280 m3h
Applicable area (sq.ft.)
550
Refrigerant
CFC free R410a / 8.64 oz
Working temp range
41 ~ 95 F and 25% RH or above
Unit dimension (W x D x H)
15.35 x 11 x 23.15 inches
Package dimension
17 x 13 x 25 inches
Net/Gross weight (lbs)
40/42 lbs
Product Specifications
Manufactured By

Sunpentown

Sold By

Width

15.35"

Depth

11.0"

Height

23.15"

Color

White/Grey

Materials

Plastic

Category

Style
Ready to ship to the Continental U.S. in 2 - 7 days.
Product Description
Designed to remove excess moisture from your home quietly and efficiently. A necessity for those suffering from dust mite, allergies or simply for those who wants to keep their indoor humidity at a comfortable level. Air that is too damp can cause itchy skin and nasal passages, condensation on windows, water damage to materials, mold growth and rotting of wood materials in your home. SPT dehumidifiers remove moisture from the musty air so you can enjoy year-round comfort in your home or office. Humidity level for this unit can be set as low as 35% with Normal or Turbo fan speed. Energy Star rated. Features washable air filter with reminder indicator and casters for easy mobility.

Features and Functions

- Choice of continuous de-humidifying or 35 ~ 85% humidity settings (in increments of 5%)
- Full bucket indicator with auto shut-off
- Memory IC (unit restarts at previous setting after power failure)
- Washable air filter with reminder indicator
- Removable bucket
- Continuous drainage option (hose not included)
- Casters for easy mobility
- Time delay auto protection
- 1 to 24 hours timer
- 2 fan settings: Normal and Turbo
- Soft touch electronic control panel
- Quiet operation
- UL approved
- Energy Star

Measuring conditions is based on factory testing conditions. Room Temp: 80F, Room Humidity: 60%.
Capacity will vary according to actual room ambient temperature and humidity conditions.

Specifications
U.S. pints / 24 hrs (AHAM)
70 pints
EEV
1.85L/kW.H
Water tank capacity
6 Liters
Power supply
115 V / 60Hz
Power consumption
720W / 6.9A
Starting current
33A
Noise level (High)
58.5
Air Flow CFM (High/Low)
320/280 m3h
Applicable area (sq.ft.)
550
Refrigerant
CFC free R410a / 8.64 oz
Working temp range
41 ~ 95 F and 25% RH or above
Unit dimension (W x D x H)
15.35 x 11 x 23.15 inches
Package dimension
17 x 13 x 25 inches
Net/Gross weight (lbs)
40/42 lbs
Need more info? Ask a question