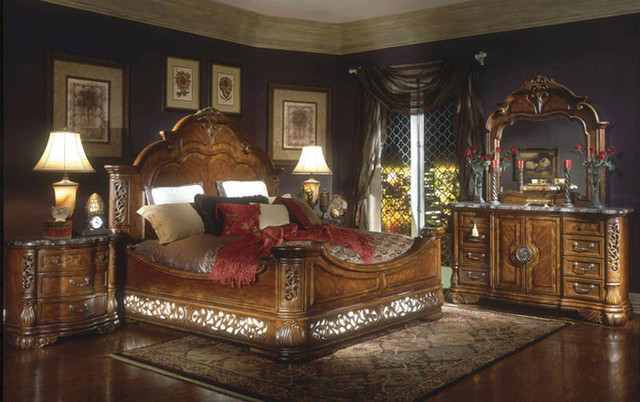 What Houzzers are commenting on:

I would love to snuggle with my granny and grampy
AICO Furniture - Excelsior Bedroom Set - 590-SET
This astonishing Excelsior Bedroom Set of fine furniture is designed by AICO to evoke the feelings of old world majesty. We all strive to achieve excellence in our personal lives and careers and we also search for that same high standard in the design and quality of the furniture we buy for our homes. The Excelsior Bedroom Set expresses excellence in every aspect of its classic lines. This set is as durable as it is aristocratically beautiful and it includes the Excelsior Mansion Bed, the Excelsior Bedside Chest, the Excelsior Dresser and matching Mirror, the Excelsior Chest, and the Excelsior Armoire. It is carefully crafted from birch solids with hand-selected cherry, mahogany, and mapa burl veneers. The quality of this furniture is in the details. The drawer construction features English and French dovetailing with either velvet or cedar lining and metal ball-bearing slide mechanisms. Mirrored backs, 3/8" thick glass shelving and beveled glass doors in the china and curio pieces create a unique look with unforgettable style. With a rich, dark fruitwood finish, elaborate filigree
wood carvings
, and intricate accent medallion hardware, this Excelsior Bedroom Set is truly unprecedented and designed to bring you many years of ownership pleasure. Excelsior will grace your home with classic elegance and perfect taste.
Set Includes: 1 Bedside Chest, 1 Dresser, 1 Dresser Mirror, 1 Mansion Bed;
Optional Item(s): Chest, 3pc Media Cabinet
Features:
Excelsior Collection
Astonishing design
Crafted from solid birch
Hand-selected cherry, mahogany and mapa burl veneers
Rich dark fruitwood finish
Filigree wood and
headboard
crown carvings
English and French
dovetailing
Metal ball-bearing slide mechanisms
Intricate accent medallion hardware
Specifications:
Excelsior Mansion Bed Collection:
- Excelsior King Size Mansion Bed: 89.75"W x 79"D x 82"H
- Excelsior King Size Mansion Headboard: 89.75"W x 6.5"D x 82"H
- Excelsior King Size Mansion Footboard: 88"W x 8.25"D x 32.5"H
- Excelsior King Size Mansion Rails and Wood Slats: 79"D x 28.75"H
- Excelsior
California King Size
Mansion Bed: 83.75"W x 83"D x 82"H
- Excelsior California King Size Mansion Headboard: 83.75"W x 6.5"D x 82"H
- Excelsior California King Size Mansion Footboard: 82"W x 8.25"D x 32.5"H
- Excelsior California King Size Mansion Rail/Wood Slats: 83"D x 28.75"H
- Excelsior Queen Size Mansion Bed: 71.75"W x 79"D x 78"H
- Excelsior Queen Size Mansion Headboard: 71.75"W x 6.5"D x 78"H
- Excelsior Queen Size Mansion Footboard: 70"W x 8.25"D x 32.5"H
- Excelsior Queen Size Mansion Rails and Wood Slats: 79"D x 25.75"H
Excelsior Bedside Chest: 36"W x 20"D x 32.75"H(Optional)
Excelsior Dresser: 72"W x 19"D x 42"H(Optional)
Excelsior Dresser Mirror: 54.5"W x 4.75"D x 53"H(Optional)
Excelsior Armoire: 54.25"W x 24"D x 92"H(Optional)
- Excelsior Armoire Top: 51.5"W x 23.5"D x 62"H(Optional)
- Excelsior Armoire Base: 54.25"W x 24"D x 30"H(Optional)
Excelsior Chest: 56"W x 21"D x 63"H(Optional)
Product Specifications
Sold By

Category

Style