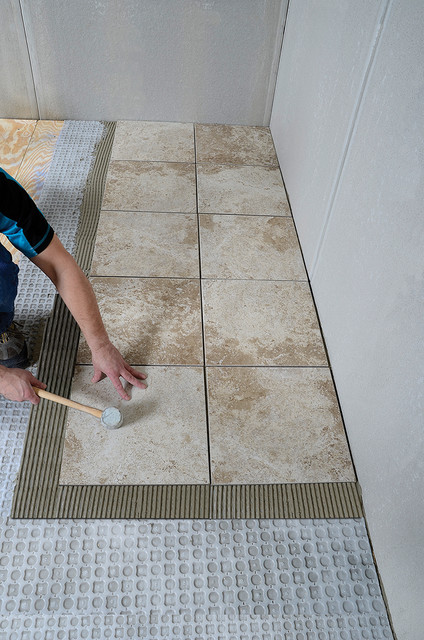 Uncoupling Membranes
Photo posted with permission from Henry B. Rothberg (Laticrete International)
URL

Style

Modern

Location

Vancouver
What Houzz contributors are saying:

Here's an action shot of tile being installed over an uncoupling membrane from Laticrete, which prepares the plywood subfloor for tile. Tip: If your floor isn't strong enough to meet the right deflection rating, an uncoupling membrane won't help. Increasing the floor joist width or adding another layer of plywood is a better and safer option.

If you drive over bridges frequently — like I do every day — you'll notice that bridges have expansion strips. During the summer the bridge is quiet, since summer's heat has expanded the bridge's concrete and the expansion strips are pressed tight. But in the winter, driving over the same bridge sounds quite different; the expansion strips are wider, and they click-clack as your tires hit them. Designing tile floors to expand and contract follows some of these same principles. Uncoupling membranes underneath floor tile can improve your floor's flexibility. This photo shows a professional installing a Strata Mat uncoupling membrane to account for minor floor movement.
What Houzzers are commenting on: